If you're planning to launch a website, you probably already know that you'll need to purchase a domain name. However, you might not be aware that doing so will make some of your personal information available to the public. This can open the door for a variety of attacks.
Fortunately, domain protection services can hide your personal details – such as your name and phone number – from the public WHOIS directory. This way, you won't have to worry about your information falling into the wrong hands. As a consequence, you'll be better protected against spam and data breaches.
In this post, we'll provide in-depth explanation of domain protection. After that, we'll discuss some of the benefits of adding this protection, and tell you how you can acquire it. Let's get started!
What Is Domain Protection?
Before we discuss domain protection, it's important to understand what happens during domain name registration.
In order to create a new website, you'll need to purchase a domain name from a domain registrar. This will often be managed by your web hosting provider, since many web hosts double as domain registrars and even include a 'free domain' for a limited time.
When you purchase your new domain, your registrar will collect personal data. This may include your phone number, email, and even physical address.
All new domain names and the personal data associated with them are then added to a public directory called the WHOIS database. Since WHOIS records are public, you can look up the data associated with a registered domain name.
Anyone can search for this information about you, by using your full website address and the ICANN WHOIS Lookup tool: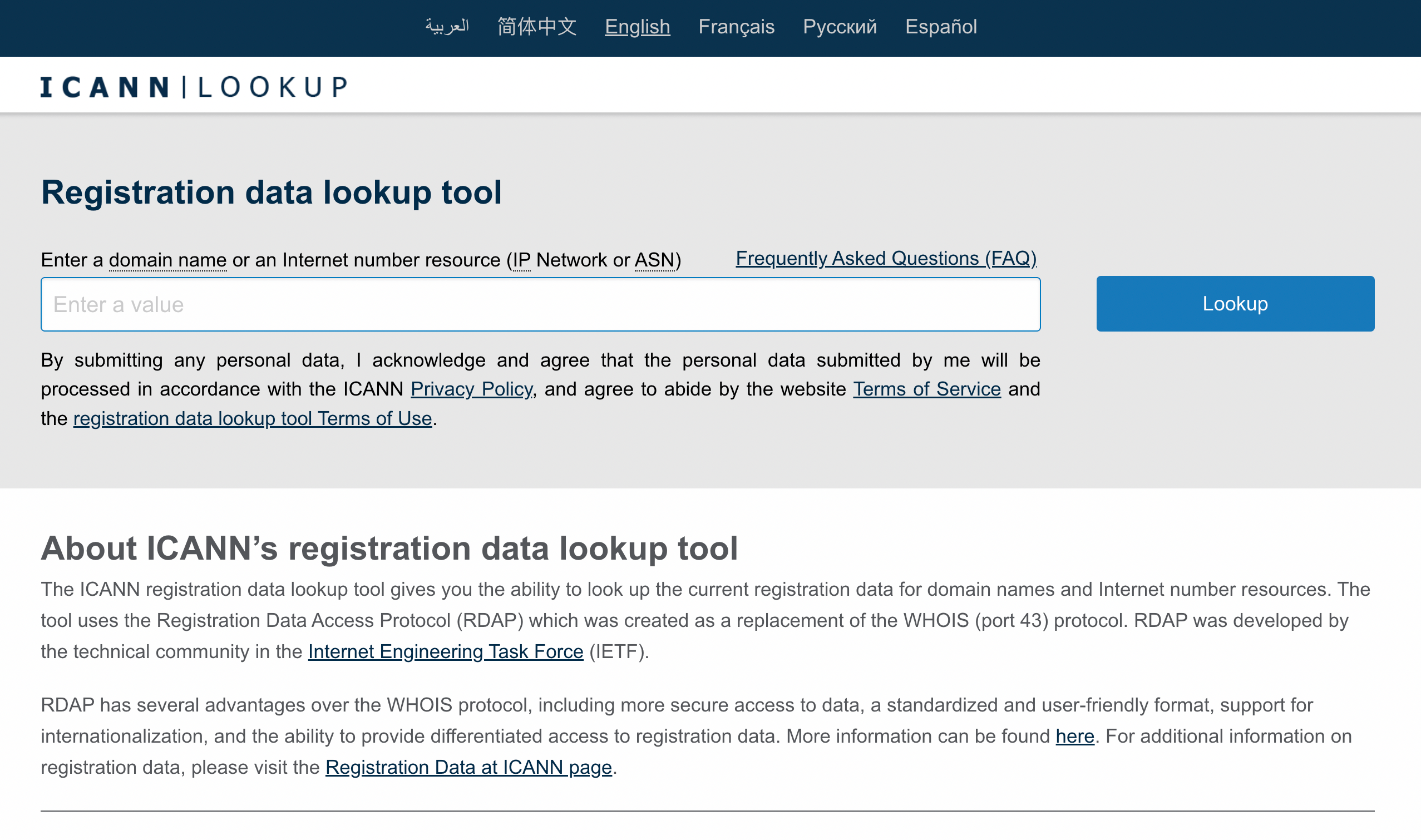 If you would like to hide your personal contact information from this type of search, that's where domain protection comes in handy. Essentially, you can pay a domain registrar to conceal your personal data.
Then, when someone looks up your website in the public WHOIS database, they'll run into a dead end. Instead of finding any personal information, they'll see generic data that leads to your domain registrar.
It's important to note that if you have a domain name registered in the European Economic Area (EEA), you won't need domain privacy protection. This is because it is included by default, thanks to the General Data Protection Regulation (GDPR).
What Is the WHOIS Directory?
Now that you know what domain protection is, let's delve a little deeper into the WHOIS directory. You might be asking yourself – why does this database even exist?
In a nutshell, it was established by the Internet Corporation for Assigned Names and Numbers (ICANN). This nonprofit organization oversees and manages certain elements of the internet, including the Domain Name System (DNS).
Originally, ICANN was meant to manage websites with some of the more popular Top Level Domains (TLDs), such as .com and .org. But as more official TLDs (such as for countries) emerged, its responsibilities grew. Today, ICANN regulates and supervises all domain registrars.
As we mentioned earlier, anyone can use the ICANN WHOIS Lookup tool to find the personal data of website owners. Domain name registrars also maintain this type of database, which can be useful if you want to see if a domain is available.
In addition to information about the domain registrant, WHOIS database listings include details about certain technical aspects. For instance, they reveal the nameservers the website uses.
5 Benefits of Using Domain Privacy Protection
At this point, it's time to decide whether you need domain name privacy protection. To make that choice easier, let's explore five of the key benefits.
#1. Prevent Spam Emails and Phone Calls
As we discussed earlier, the WHOIS Lookup tool allows anyone to find your private domain registration information. This almost always includes contact details such as your full name, email, phone number, and even physical address: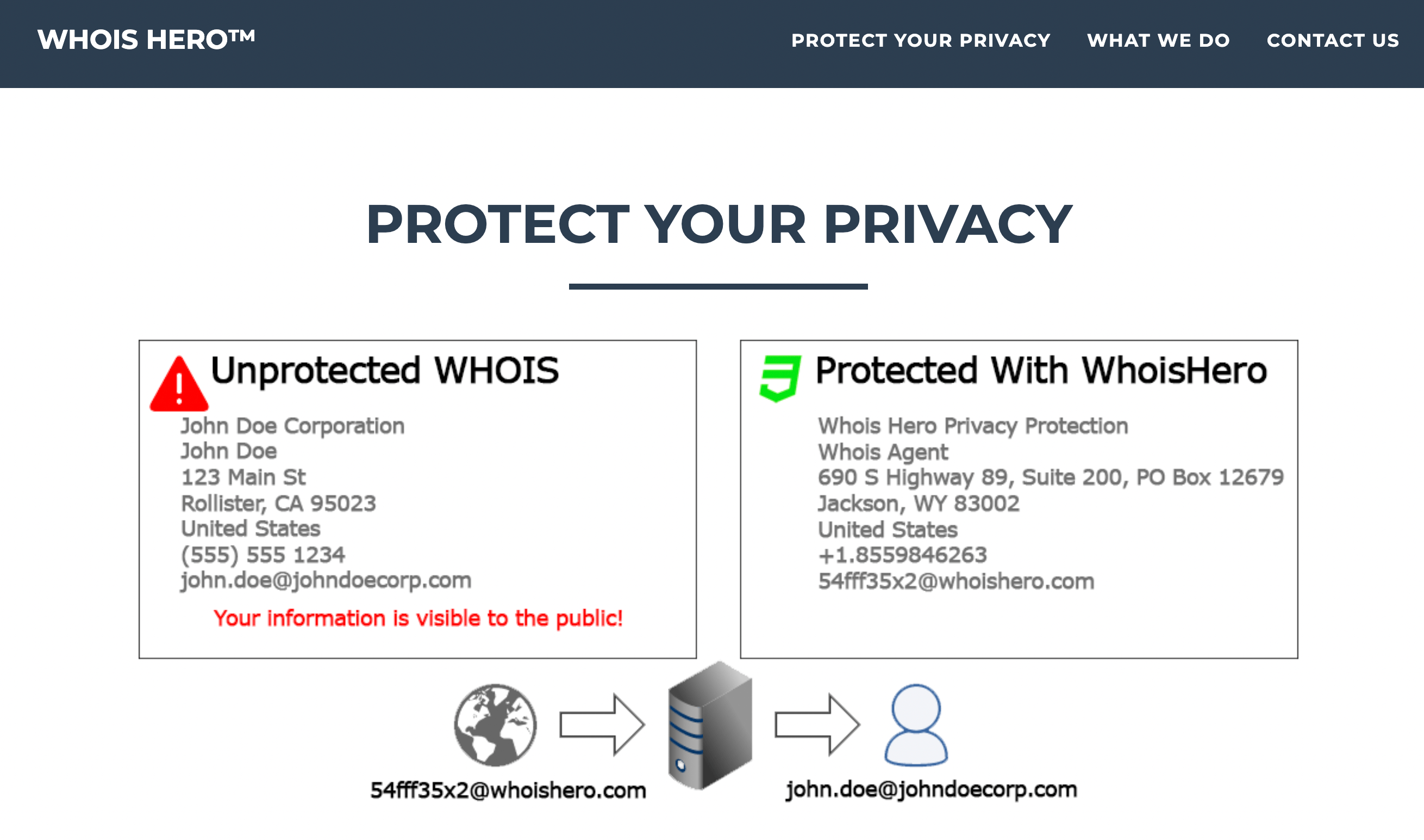 Therefore, without domain privacy protection, you'll be susceptible to multiple types of spam. That includes spam emails and unwanted calls.
Furthermore, since bots can help hackers acquire this information rapidly, it could become a regular occurrence. In addition to junk emails and other minor nuisances, you could become the victim of more malicious activity, such as phishing attacks.
On the other hand, if you get domain privacy protection, you can save yourself the hassle of sifting through spam. Plus, you'll reduce the chance that your information will fall into the wrong hands.
#2. Avoid Identity Theft
Hackers will go to great lengths to steal a person's identity. Typically, they do this in order to commit some type of financial fraud or theft.
Since domain registrations without privacy protection make your personal data public, this inevitably increases the chance that someone will attempt to steal your identity. By concealing your private information, domain privacy protection can keep you safe from identity theft.
#3. Reduce the Chance of Domain Theft
Domain theft, also known as domain hijacking, is when a hacker modifies the domain registrant's information without their knowledge. This can enable them to transfer the domain name to themselves without authorization.
In this way, they can take full control of your website without your permission. This would be disastrous for your site. It can lead to compromised user data and lost conversions.
#4. Prevent Data Breaches
If someone steals your domain registration, they can also gain access to the back end of your website. This means all your content and sensitive information would be at risk.
For instance, if you run an ecommerce store, your users' credit card details could end up in the wrong hands. With domain privacy protection you can prevent this type of data breach, thereby safeguarding your business and reputation.
#5. Maintain Anonymity
Finally, you may want to get domain privacy protection to protect your anonymity. This could be useful if you're an anonymous blogger, or you simply value your privacy.
Whatever the reason, anonymous domain registration is a great way to minimize the amount of confidential information there is about you online. Choosing a reputable hosting provider with robust security features is also helpful.
How to Get Domain Privacy Protection
Now that you know all about domain privacy protection, you may be wondering how you can get it. The good news is that it's a simple process.
If you're purchasing a new domain name, you can sign up with a credible domain registrar that offers this service. Alternatively, if you want to protect an existing domain, you can transfer that domain to a provider that supplies domain protection.
Since NameHero is both a web hosting provider and a registrar, you can get reliable hosting that includes domain privacy, all in one package: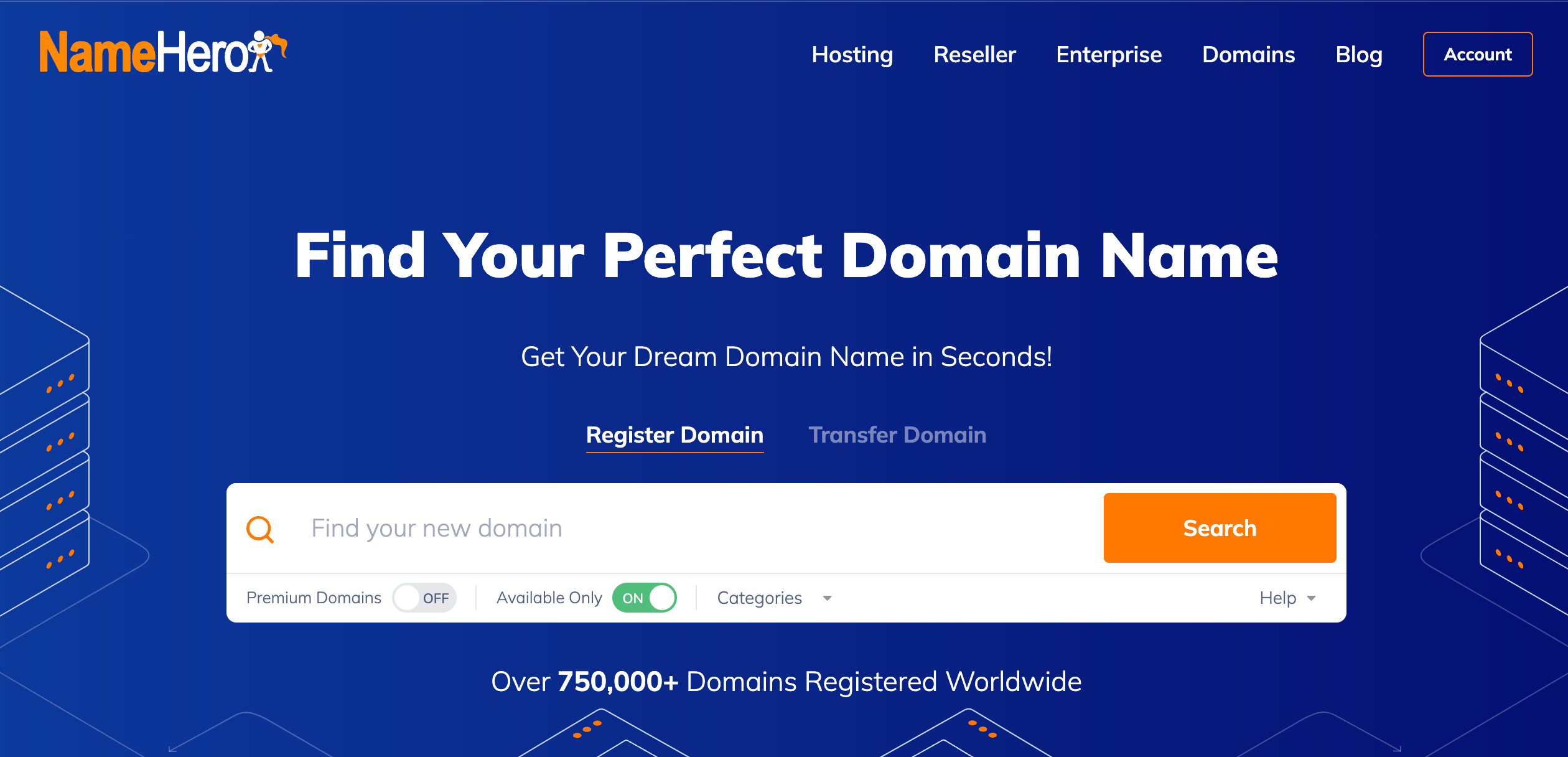 You'll just need to choose your hosting plan and enable domain privacy by opting into Whois Hero privacy protection. This will cost you a small additional fee each year.
Additionally, with NameHero web hosting you'll get powerful security features, including an advanced firewall, intelligent brute-force protection, and Security Shield.
Conclusion
If you're planning to become a website owner, you may be curious about domain privacy protection. It's important to have a solid understanding of this concept. With that knowledge in hand, you can shield your website and business from hacking attempts and spammers with malicious intent.
To summarize, all domains must be registered. This process requires you to provide some contact details, including your email and phone number. Then this data is published in the WHOIS directory, which is public. Domain protection enables you to conceal that personal information. If you choose the right registrar, you'll be able to purchase a domain privacy protection service at an affordable price.
Do you have any other questions about domain privacy protection? Let us know in the comments section below!
Sophia is a staff writer at WordCandy.co, where she produces quality blog content for WordPress plugin and theme developers, hosting providers, website development and design agencies, and other online businesses.