In a world where digital footprints are scrutinized and privacy concerns are skyrocketing, safeguarding one's online identity through anonymous domain registration has become paramount. With the increasing use of the internet for personal and professional purposes, it has become easier for cybercriminals to obtain and exploit personal information for their gain. 
This is where private registration of your domain comes into play.
Although every domain must legally have an attributed owner, domain privacy protects your personal information by replacing it with the registrar's information. This makes it hard for bots or malicious actors to query a database or scan a system and grab your information. So even if you have your face, name, or other information on your website, it still may be a good idea not to have your name, address or billing information tied to your domain and instead register your domain anonymously.
In this blog, we'll explore what domain privacy is, how it works, and how to implement it.
What is Anonymous Domain Registration?
When it comes to purchasing a domain on the internet, you are required to provide a certain amount of important information.
In most cases, you will need to disclose the following details:
Your name
A relevant email address
Your business address
Telephone contact details
While these requirements are typical for online purchases, there is a significant distinction regarding domain registration. The crucial difference is that the personal information you provide during the domain registration process is not kept private by default.
This lack of privacy can be concerning for many individuals and businesses. When you register a domain, your personal information becomes publicly accessible through a directory called the WHOIS database. This database is widely available and can be accessed by anyone searching for domain ownership details.
What Is The WHOIS Database?

ICANN is a non-profit organization that manages Internet Protocol (IP) addresses and the Domain Name Server (DNS) root to ensure the stability and security of the internet. As a result, ICANN regulates the registration process for domain names and demands that every domain owner provide their complete contact information. This data is then made publicly available on the WHOIS database.
The WHOIS database is a publicly accessible repository that stores information about registered domain names. When you enter a domain name into the WHOIS lookup, the database returns the details associated with that particular domain.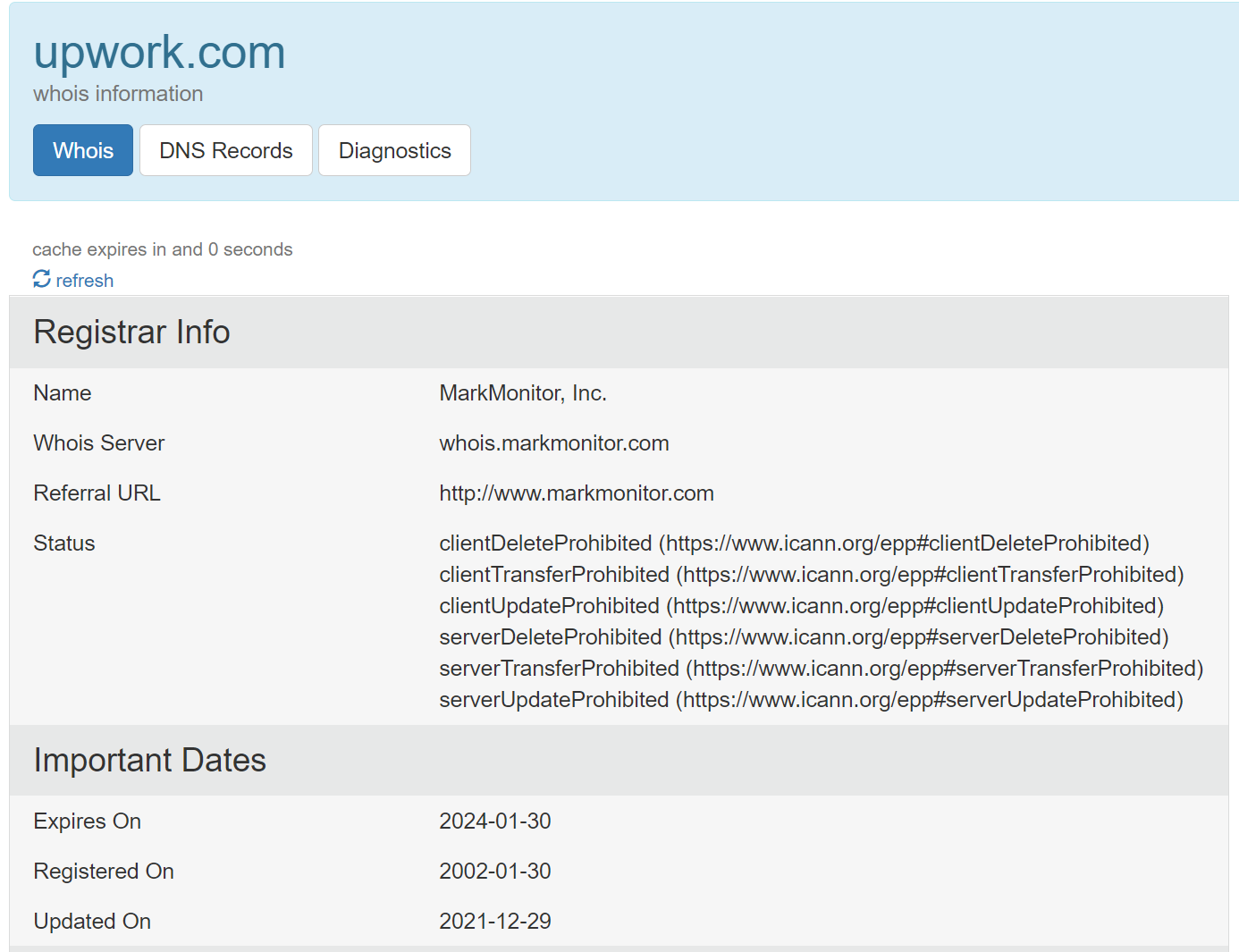 The public WHOIS database provides several benefits, including:
Transparency: The database allows anyone to access information about domain ownership, making it easier to determine the identity of the owner of a domain name and the contact details of the person or entity controlling it.
Accountability: The database helps ensure that domain owners are held accountable for their actions, as it provides a way to identify and contact the domain name's owner in case of any disputes or issues.
Security: The database helps prevent cybercrime and other illegal online activities by providing a means to track down the owners of suspicious websites or domains. It also helps law enforcement agencies investigate by providing information about domain ownership and usage.
Why Choose Anonymous Domain?
There are several reasons why individuals and businesses can opt for a private registration service when buying a domain:
1. Protect Personal Information
When registering a domain name, your personal information, such as name, email address, phone number, and physical address, is stored in the WHOIS database. This database is publicly accessible, meaning anyone can look up your information by searching the domain name, which can also lead to identity theft. With anonymous registration, your personal details are replaced with generic proxy information, protecting your privacy.
2. Avoid Spam and Unsolicited Contacts
Having your personal information visible in the public database can lead to an increase in spam emails, unsolicited phone calls, or even physical mail. Anonymous registration helps you avoid unwanted contacts by keeping your information private.
3. Protect Against Domain Hijacking and Fraud
Cybercriminals can use the information in the public database to steal or hijack your domain. They might gain access to your domain account or trick you into transferring the domain to them. Anonymous registration adds an extra layer of security against such fraudulent activities.
4. Maintain Confidentiality in Sensitive Situations
In some cases, businesses or individuals may want to keep their ownership of a domain confidential. This could be due to legal reasons, competitive advantage, or personal safety concerns. Domain privacy allows you to maintain secrecy in such situations.
How to Verify Whether your Website has Privacy Protection
You can easily check to see if you have domain privacy protection by visiting the WHOIS database and entering your domain name in the search bar.
Here is a snapshot of WHOIS lookup of my personal site: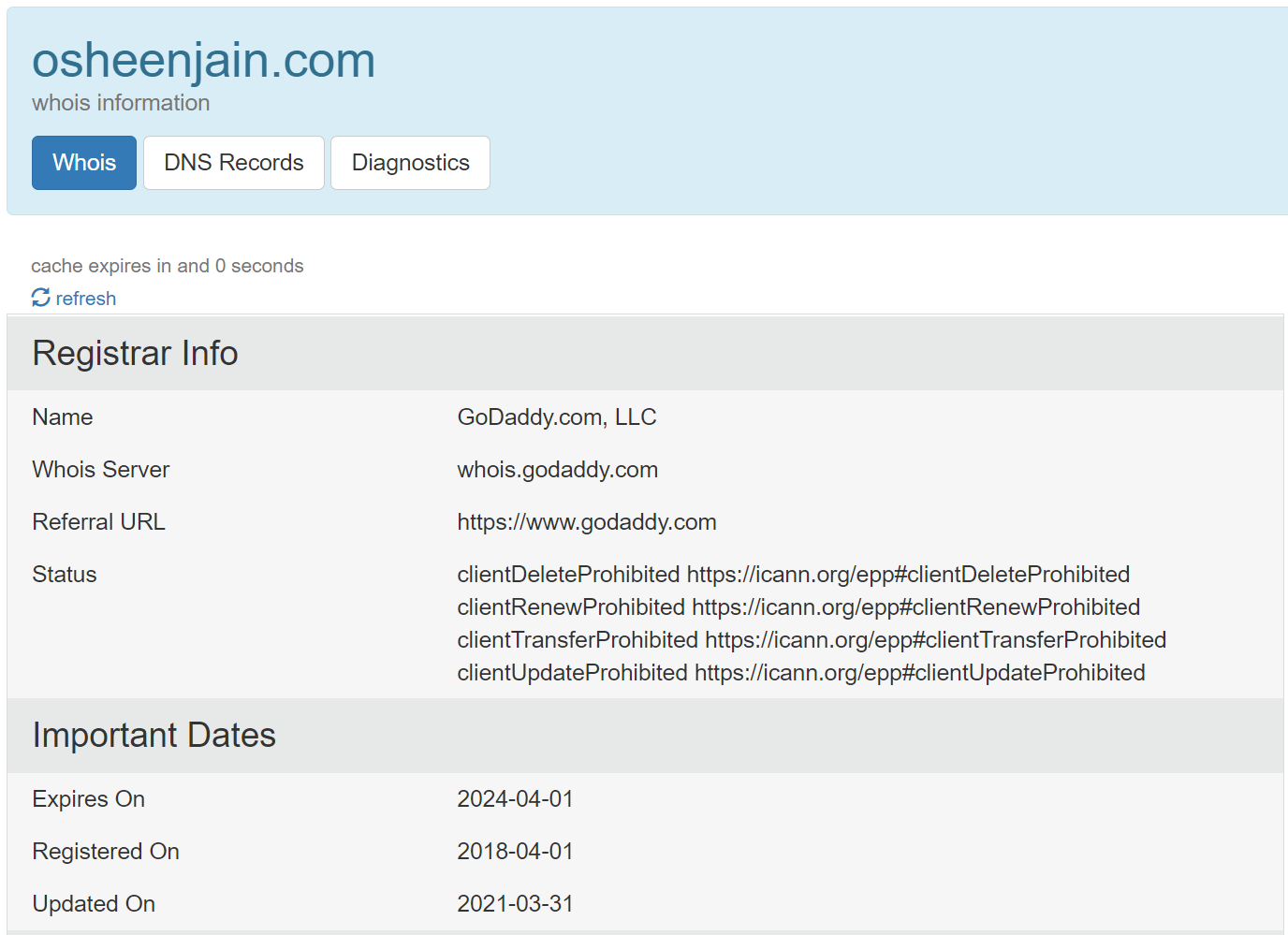 The search result display details on the registrar, registry dates, and domain name.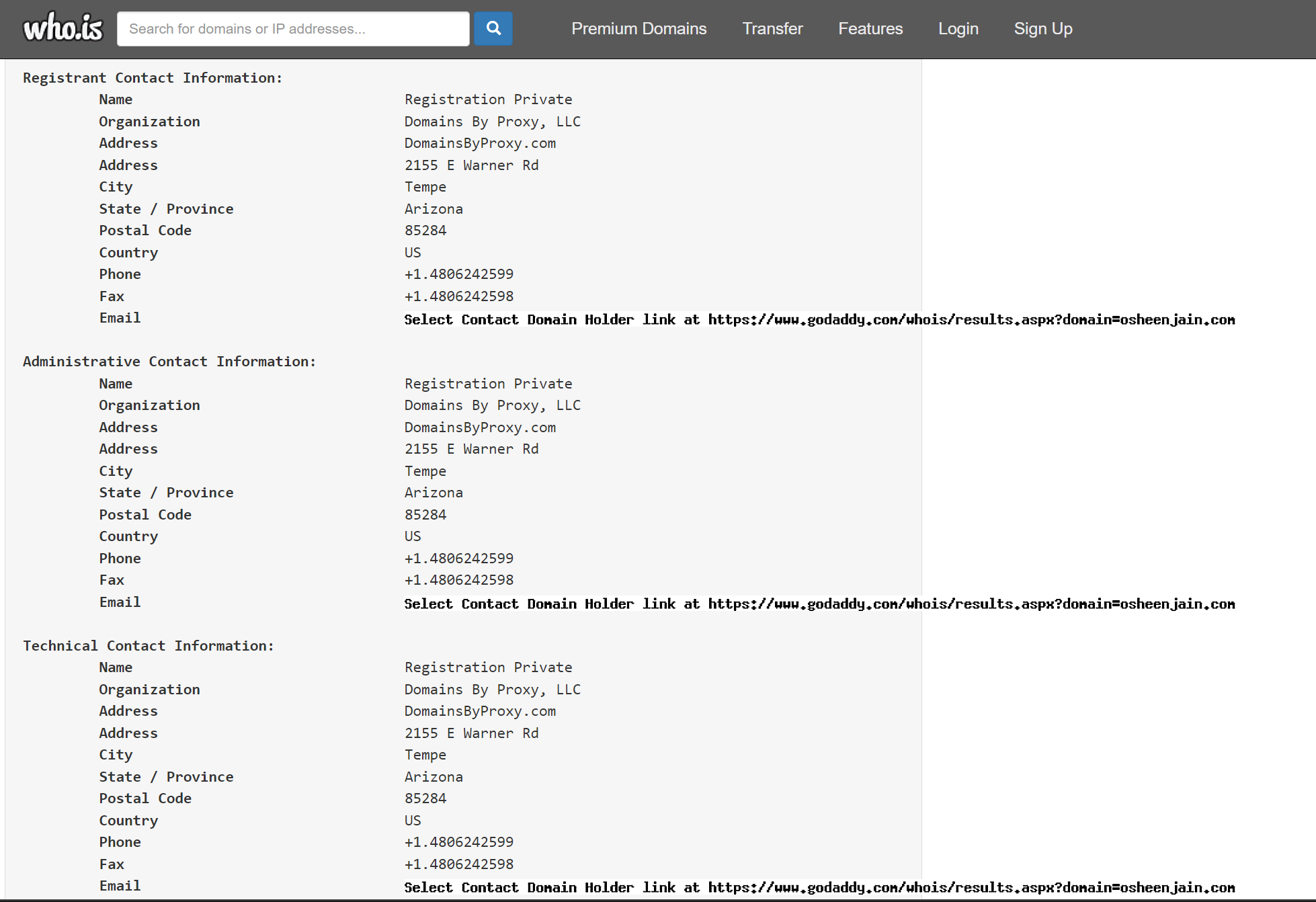 To check for domain privacy, scroll down to the Registrant Contact, Administrative Contact, or Technical Contact sections.
Since my domain has a privacy protection, no direct contact information is available on the database.
When using the database to look up your website, look for a generic name, contact address, or email address that forwards messages to you. If you find any of your details apart from what's in the Domain Information panel, consider enabling domain privacy.
5 Methods to Anonymously Register A Domain
Most registrars offer privacy protection services for an additional fee upon registering a domain as an add-on when you purchase a new website. These services replace your personal information with proxy details in the WHOIS records. Some popular domain registrars that offer privacy protection include:
We offer privacy protection with our domains for an additional $5.98 per year. However, many of our hosting packages offer a free domain registration (for example, our Turbo WordPress package!) to help lower the total cost. Regardless of which hosting provider you go with, a .com registration is usually going to be $15-$20/yr.
Domain.com offers a Privacy + Protection addon which replaces your personal information with generic proxy details in the WHOIS records.
Bluehost
Bluehost, primarily known for its hosting services, also offers website registration with the Domain Privacy+ Protection addon. For $1.25 per month, Bluehost replaces your personal information with generic contact details in the WHOIS database.
GoDaddy
GoDaddy offers free Full Domain Protection with all domains purchased with them.
Cloudflare Registrar
Cloudflare Registrar is a domain registrar service offered by Cloudflare, which provides the content delivery network (CDN) and security services. Cloudflare offers domain privacy protection features without additional cost and helps protect your personal information from being publicly accessible in the WHOIS database.
Steps to Add Domain Privacy With NameHero
In order to add domain privacy to your domain when shopping with NameHero, simply put the domain in your cart after searching to see if it's available with our Instant Domain Search. Then you'll be prompted to select which add-on's you'd like for your domain. Just complete the rest of the checkout process to pay for your domain and you're all set and protected!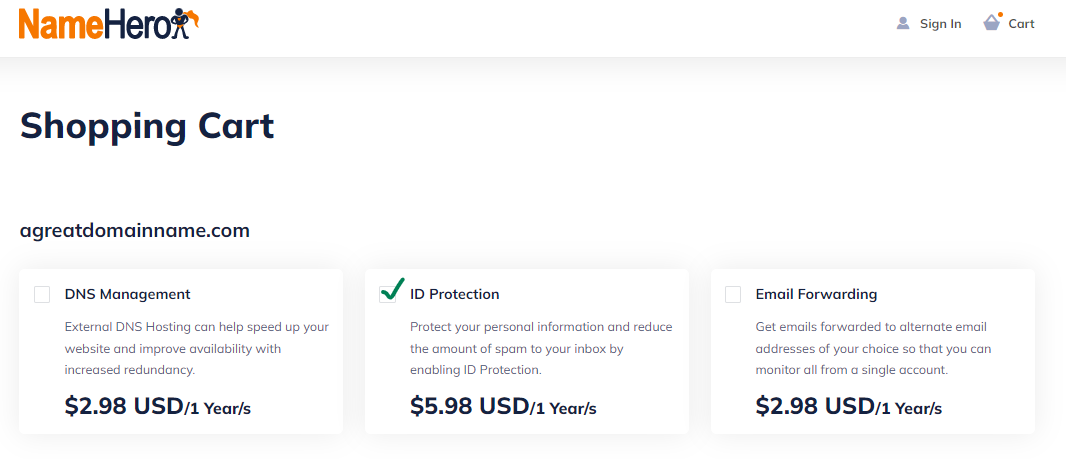 If you choose to buy hosting as well, you'll follow a similar process. Just start with selecting a hosting package and follow the prompts.
Additional Tips for Maintaining Anonymity
In addition to choosing anonymous domain, you can follow these tips to further protect your privacy:
Use a dedicated email address for website registration purposes.
Enable two-factor authentication on your domain account.
Regularly monitor your domain's WHOIS records to ensure your information remains private.
Choose a reputable hosting provider that offers strong security features.
Conclusion
In conclusion, private domain registration is crucial for anyone looking to protect their personal information and privacy online. By hiding your personal contact information from the public WHOIS database, you can prevent unwanted solicitations, spam emails, and even identity theft. With the rise of cyber threats and online scams, it's important to take every precaution possible to safeguard your personal information and online presence.
Fortunately, anonymous website registration is a simple and affordable process that can be easily implemented through registrars like NameHero. By following the steps provided, you can purchase and activate privacy for your website, ensuring that your personal information remains safe and secure.
Overall, anonymous domains are a wise investment for anyone looking to establish an online presence while protecting their privacy. By securing your personal information, you can enjoy the benefits of online communication and commerce with peace of mind.
FAQs
Q: Why should I consider registering a domain name anonymously?
Registering a domain name anonymously can help protect your personal information, maintain privacy, and prevent potential spam or unwanted solicitations.
Q: How can I register a domain name anonymously?
There are a few methods to register a domain name anonymously. One option is using a domain privacy or proxy service, which most registrars offer. Another option is to register the domain through a third party, such as a lawyer or a trusted friend, who can act as the registrant on your behalf.
Q: Are there any limitations or considerations when registering a domain name anonymously?
While anonymously registering a domain name offers privacy benefits, there are a few considerations to remember. Some domain extensions (TLDs) may have specific restrictions or policies regarding anonymous registration. Additionally, it's important to ensure that the domain registrar you choose has a reliable privacy protection service and a good reputation in the industry.
Osheen has been writing about tech, science, and business for the best part of a decade. Her experience and skills span the worlds of B2B SaaS, eCommerce, and DevOps.