So you're ready to build and launch your first website. Have you chosen a website builder yet?
Selecting the right website builder comes down to tech know-how, your personal preferences, and the future trajectory of your site. Knowing the differences between popular web design platforms, such as Webflow vs WordPress, will make your decision easier.
Ready to learn the differences between WordPress vs Webflow? Read on.
What is Webflow?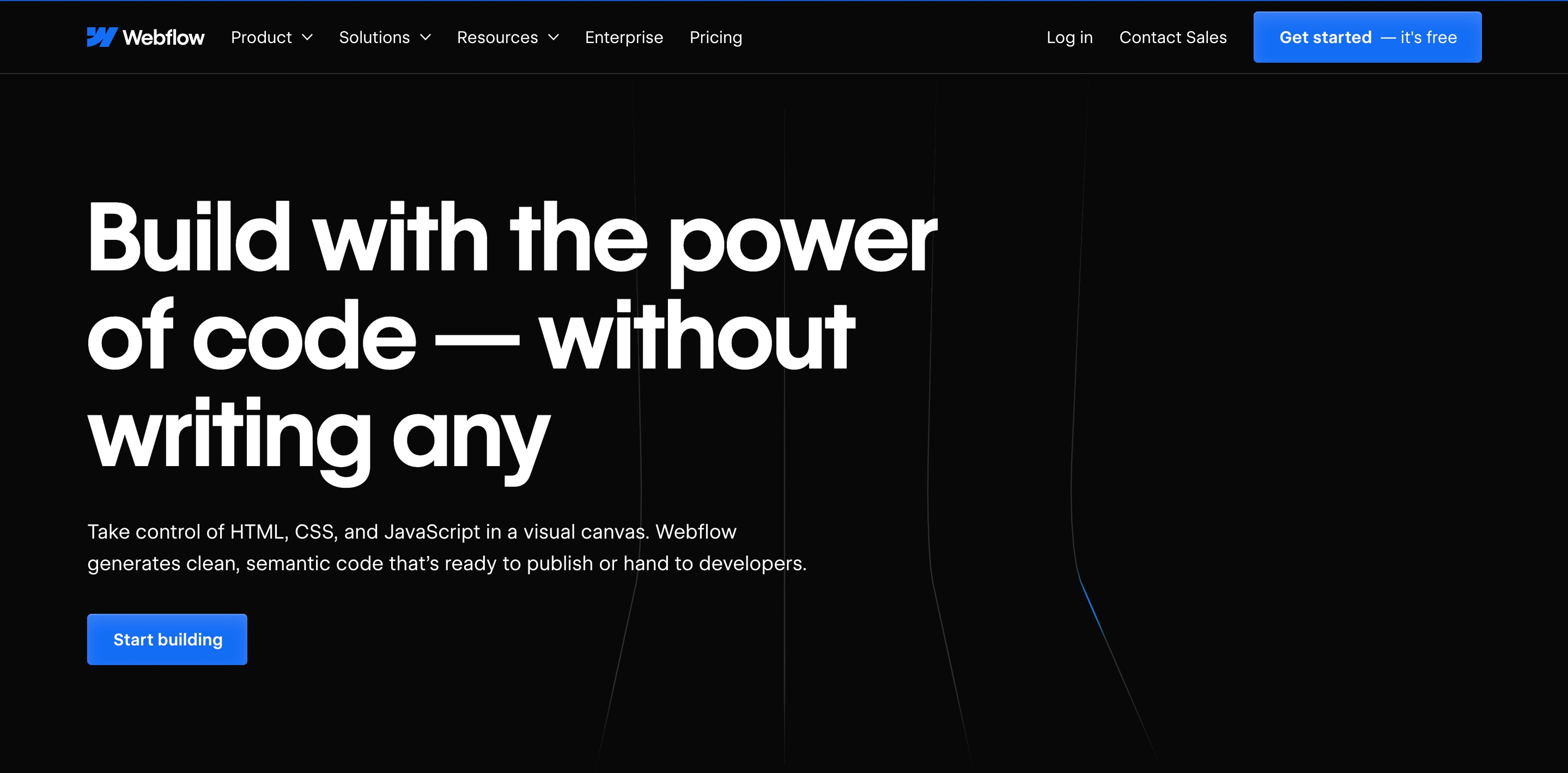 Webflow is a web development platform that offers website building tools – no code required. Users can build simple or complex websites without web design skills. Even a beginner can build a Webflow site using its visual builder, which generates your site's embed code in real time.
As far as Webflow vs WordPress are concerned, Webflow offers web design capabilities, SEO tools, content management, and web hosting all in one place.
Webflow websites are no code visual sites that can be published directly to Webflow hosting. Alternatively, the code generated by your design can be exported and sent to a web developer. Your developer, in turn, can use your code with the hosting provider of your choice.
Webflow Features
When comparing Webflow vs WordPress, it's important to understand what features each website platform offers.
Webflow offers a completely visual canvas that a website owner of any skill level can use to create a great-looking site. Its page structure is made to be fully customizable – meaning, you can build a site or e-commerce store that looks just like you want it to.
If you have a team, you can easily add collaborators to your site build to help bring your idea to life. The Webflow interface allows for teams to work together.
Webflow features built-in SEO tools to help site owners with search engine optimization. In order for users to find your website, it must show up in the search engines. SEO optimization helps the right people find you online.
Additionally, Webflow's localization tools allow website visitors from all over the world to access and translate your site, making it easy for anyone to use.
Does Webflow Offer Website Hosting Services?
Yes. Webflow offers website hosting services in three tiers: Basic, CMS, and Business Hosting. This option works well for site owners who want to keep everything in one place.
With a few clicks, you can easily publish your Webflow site straight from the builder with a custom domain.
How Much Does Webflow Cost?
Although Webflow has a free tier for staging sites and hobby websites, its paid tiers start at $14.00 per month (billed annually) for a basic website. This is great for a small static site or an early-stage business looking to hang a digital shingle.
For the Webflow CMS (content management system) tier, billing starts at $23.00 per month (billed annually). You'll need the CMS tier if you plan to start a blog or other content-heavy website.
Webflow's tiers scale all the way to enterprise level, a feature that works well for a large e-commerce site.
Who Should Use Webflow?
Beginners with no coding knowledge should give Webflow a try. Unlike WordPress, Webflow's page builder is a one-stop shop with all the tools you need – even if it's just a one-page website.
If you want a visual editor that gives you complete control over your site's look and feel and has a shorter learning curve, a Webflow account just might be the choice for you.
What is WordPress?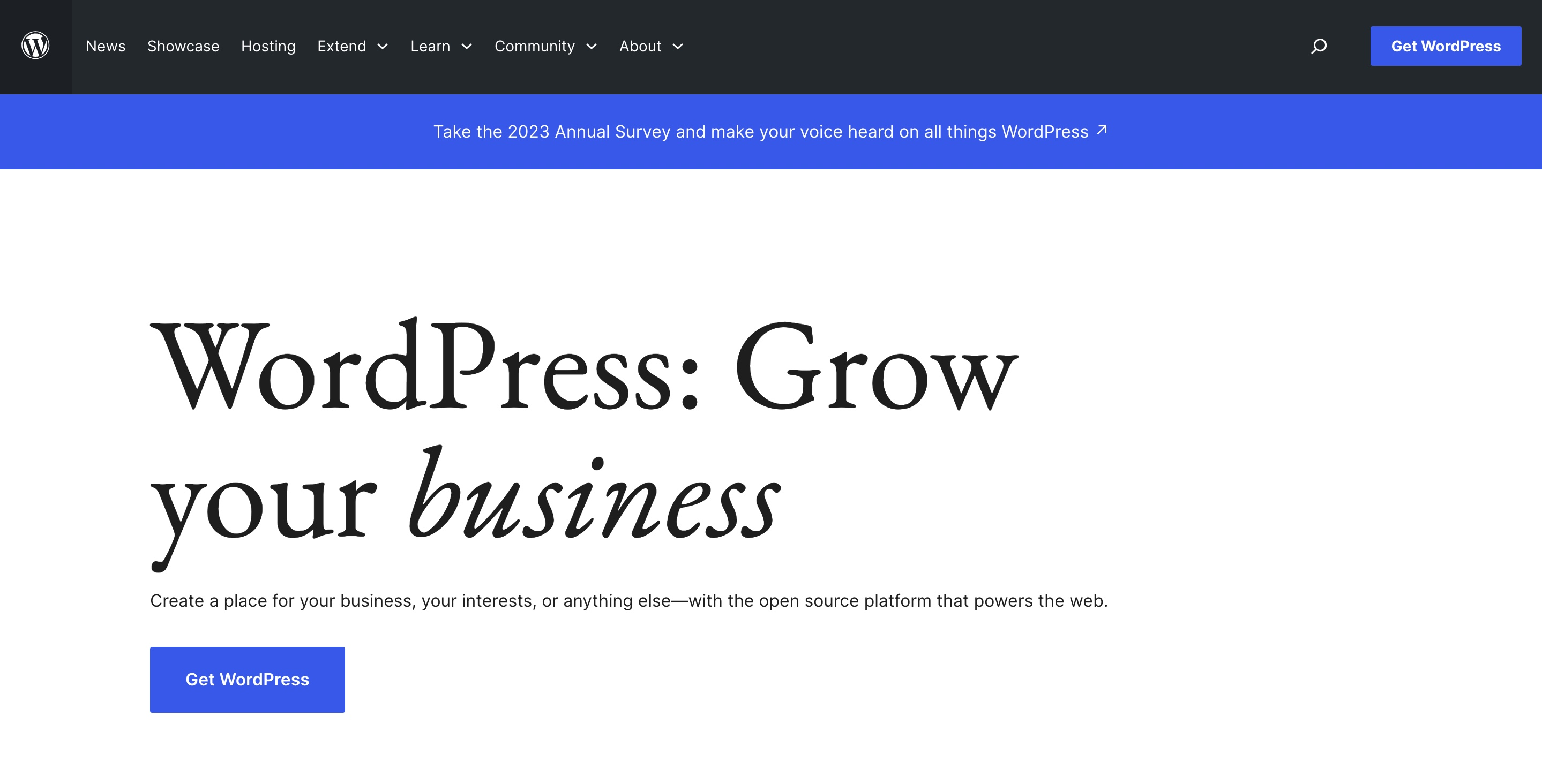 Now, it's move on to WordPress software. When it comes to building websites, WordPress offers a blogging platform, ecommerce functionality, page builders, SEO capabilities, and the ability to install WordPress plugins that customize your website.
WordPress is the most popular blogging CMS online, and its core software is free. Many website hosting companies have easy WordPress integration, making it affordable for individuals and businesses to set up
For beginning website owners who want to DIY, WordPress sites do require some technical know-how.
If you don't have experience coding or modifying WordPress themes, for instance, you'll need a web developer's help to navigate site setup.
Depending on which tools and plugins you use, WordPress software can have a significant learning curve, so that's important to be aware of.
WordPress Features
WordPress is open source software that you can customize to fit your website's needs. When you build a WordPress website, the customization options seem endless. That's because WordPress offers:
A library of versatile WordPress themes that allow you to create a powerful website the way you want it
WordPress plugins and premium plugins, including security plugins and additional plugins, to add tons of functionality to your WordPress site (both on the back end and for the end-user)
A powerful WordPress dashboard with expandable features (based on your chosen plugins)
The ability to host an ecommerce site using tools such as WooCommerce or Shopify
Blogging capabilities and powerful SEO settings that will help your site rank in the SERPs
Does WordPress Offer Website Hosting Services?
Unlike other website builders like Webflow, WordPress doesn't offer hosting. Instead, it integrates with other web hosts' site plans.
You'll need to purchase your domain name and a hosting package from a website hosting company. At NameHero, for example, you can purchase both your domain name and a WordPress hosting package that makes the setup process easy.
In other words, you build your WordPress site once you've chosen a website host.
How Much Does WordPress Cost?
WordPress itself is free, but there are other costs associated with installing and running a WordPress site.
The price for a self-hosted WordPress website varies, depending on which web hosting company you choose. Factors such as your domain name, any premium plugins you might purchase, your web hosting package, recurring costs, and the price of a web designer all factor in.
At NameHero, our WordPress hosting packages include lightning-fast speed and top-tier site security. Even better, when you purchase our Turbo Cloud or Business packages, your WordPress integrates with your plan and installs automatically.
Our best-value Turbo WordPress package starts at $9.98 for the first month, then $19.95 after that. Take a look at the details here.
Who Should Use WordPress?
For users deciding between WordPress vs Webflow, the decision comes down to skill level. If you're tech-savvy, or building a website that you hope to last many years and evolve over time, WordPress might be better for you.
Time To Start Building
Which site builder seems like the best fit for you: Webflow vs WordPress? Do you prefer Webflow's visual editor over a library of customizable WordPress themes and the ability to install plugins? Leave a comment below to let us know what you think.
Haley Walden is an intuitive brand voice copywriter who helps thought leaders and innovative brands position themselves as industry experts, influencers, and visionaries in their fields. She's a multi-passionate geek with many obsessions, including books, martial arts, film, music, and musicals. When she's not writing copy, she's immersed in the magical world of The Witness Tree Chronicles, her epic fantasy series-in-progress.