If you're looking for a great domain extension for your website, the .me domain could be the right choice for you. 
.me domains work well for personal websites. It's also a solid choice for a personal brand. By using the .me domain, you're telling your site visitors that this website is focused on you. That works whether you're sharing slice-of-life stories or launching a solo business where you market your expertise. 
Choosing a personalized web address to use as a catchy business marketing tool could help make your website address extra memorable to web users. Right out of the gate, your site visitors will know they're accessing information that's personal to you in some way.
Whether you want to launch a blog that showcases your interests and talents, or a business website where you leverage your professional experience to make money, .me domains can create excellent opportunities for you – including all-important brand recognition.
Wondering whether a .me web address is right for you? Let's talk about it. 
What Are .me Domains?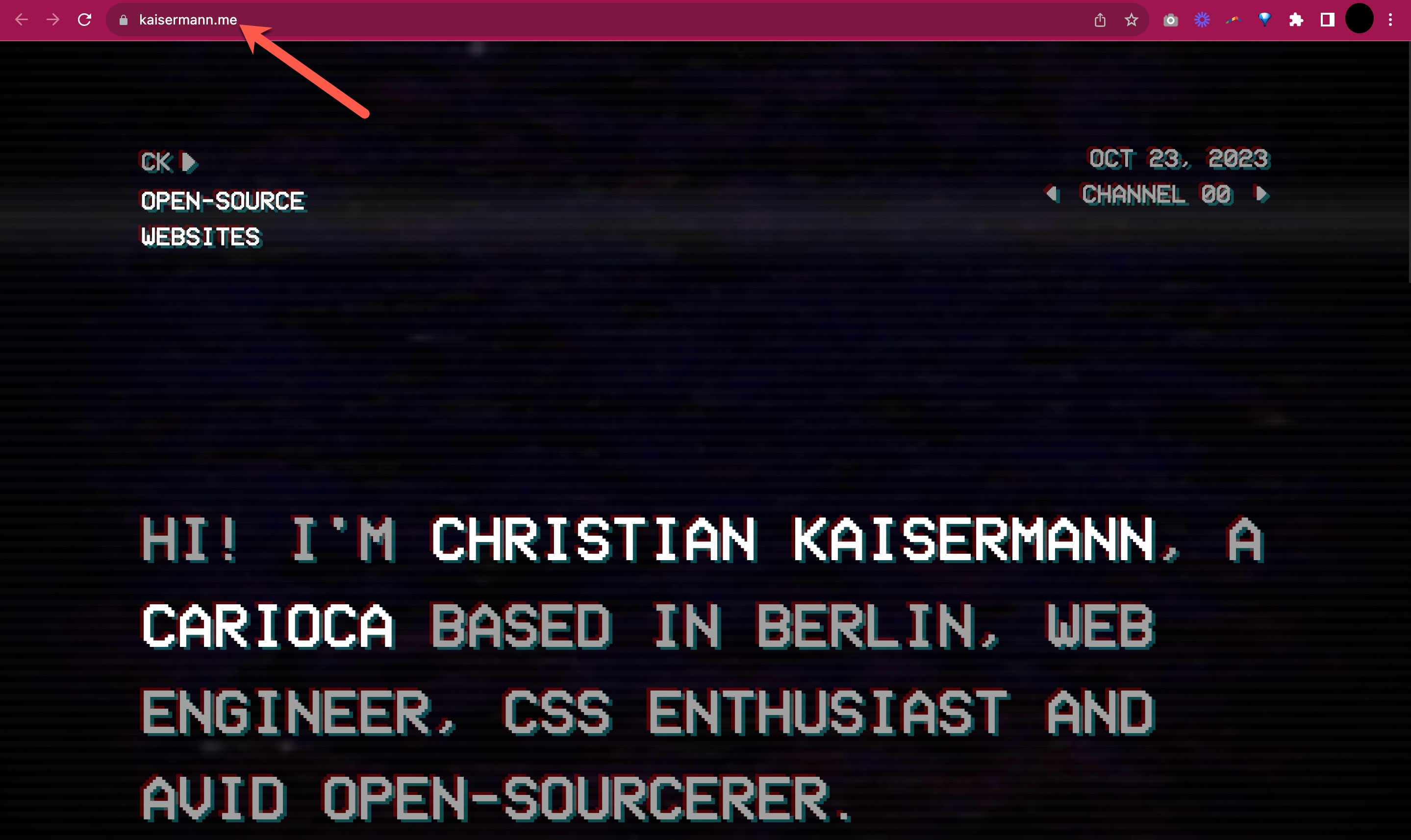 .me domains are premium domains that can be incredibly valuable. This domain began as a country code top level domain (ccTLD) for Montenegro, a country located in the Mediterranean region. However, Google treats it as a generic top-level domain (gTLD). 
The fact that it's a country code top level domain name for Montenegro hasn't dissuaded website owners all over the world from choosing it. At this time, there are no negative impacts to search engine results.
.me is one of many popular, premium domain names that has gained an association with one's personal online presence. Whether it's used for personal blogs or personal branding, .me is both customizable and memorable.
Additionally, .me domains can be used for domain hacking. This is a method that utilizes the extension as part of the entire domain name.
Who Should Choose a .me Domain Extension?
A .me domain extension is a great choice for personal websites and individuals with personal brands. If you want your business closely associated with your name, .me could work well for you.
There are many individuals who might benefit from using a .me domain, including:
Authors
Bloggers
Creative directors
Family historians
Freelancers
Graphic designers
Independent journalists
Memoirists
Public speakers
Scholars and researchers
Thought leaders
Website developers
Writers and editors
.me domains are fantastic for personalized marketing, creative professionals, business seeking solo service providers, and more.
Potential SEO Impacts of .me Domains
When it comes to .me domain extensions, there are some potential SEO impacts to consider.
For the most part, finding you online shouldn't be a problem as long as your name can't be confused with someone who's already famous.
You'll want to make sure that it makes sense to use yourname[dot]me as a website URL. Do you share your name with any prominent individuals who might already have a .com domain name? If so, their website and online presence will likely push yours to the bottom of search results, making it harder for users to find you.
Additionally, it's a best practice to choose an original business name that doesn't overlap with a prominent, established company. If you want to reap the SEO benefits of your domain, then it's important to make sure it's distinctive enough that it won't get lost in a sea of competitors.
Pros and Cons of .me Domain Names
There are both benefits and drawbacks of choosing a .me domain. It's important to carefully consider what you want to do with your website before you decide on the perfect domain.

Here are some of the pros of choosing a .me domain name:
.me is great for personal pages and websites that hold a special, personal meaning to the site owner and those who will be visiting it.
Website names geared toward your personal identity and talents could help businesses seeking freelancers and contractors to find you online.
You'll have access to a global market, with a potential target audience all over the world.
It's SEO friendly and adds a nice personal touch to your marketing.
On the other hand, here are some cons to consider:
Highly personalized domains might not translate well to scaling or pivoting a business. If there's a possibility you might shift your business into a larger operation in the future, consider purchasing domains that reflect your business name – even if you only use them as redirects.
.me domains can be problematic if you share names with a famous person. For example, if your name happens to be Stephen King and you work in the tech industry, your stephenking[dot]me domain will disappear into the search engines, never to be seen again.
How to Purchase .me Domain Extensions for Your Website
The steps to purchasing your .me domain extension are easy to follow. As long as you're buying from an official domain registrar, your experience should be fairly seamless. Your hosting provider can help you determine which steps to take along the way.
NameHero is an official domain name registrar, and we make it effortless for you to find and secure the right domain name for your website. Let's walk through the steps for finding your .me domain.
How to Register .me Domain Names With NameHero
Ready to get started with your new .me domain registration at NameHero? It's easy to get started.
1. First, navigate over to https://www.namehero.com/domains.
2. Type your desired .me domain name in the search box and click Search.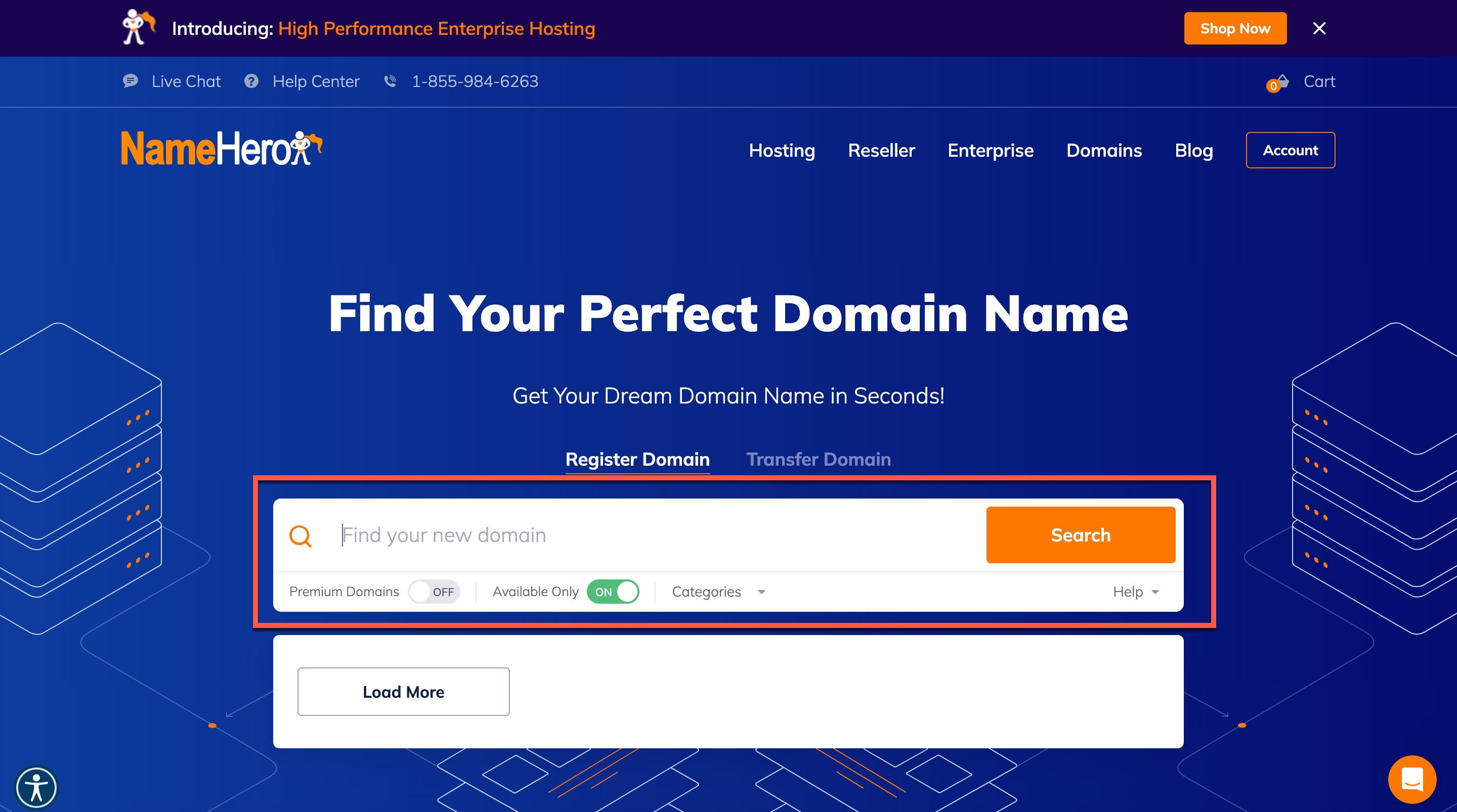 3. You'll see a list of available domain extension offers, including .me options. From here, you can see which choices are possible for you.
Pricing can vary widely depending on the domain name you choose. It may be valued at a premium price. Notice that my domain-hacked name, cooldomainna.me, costs $24.95 for one year.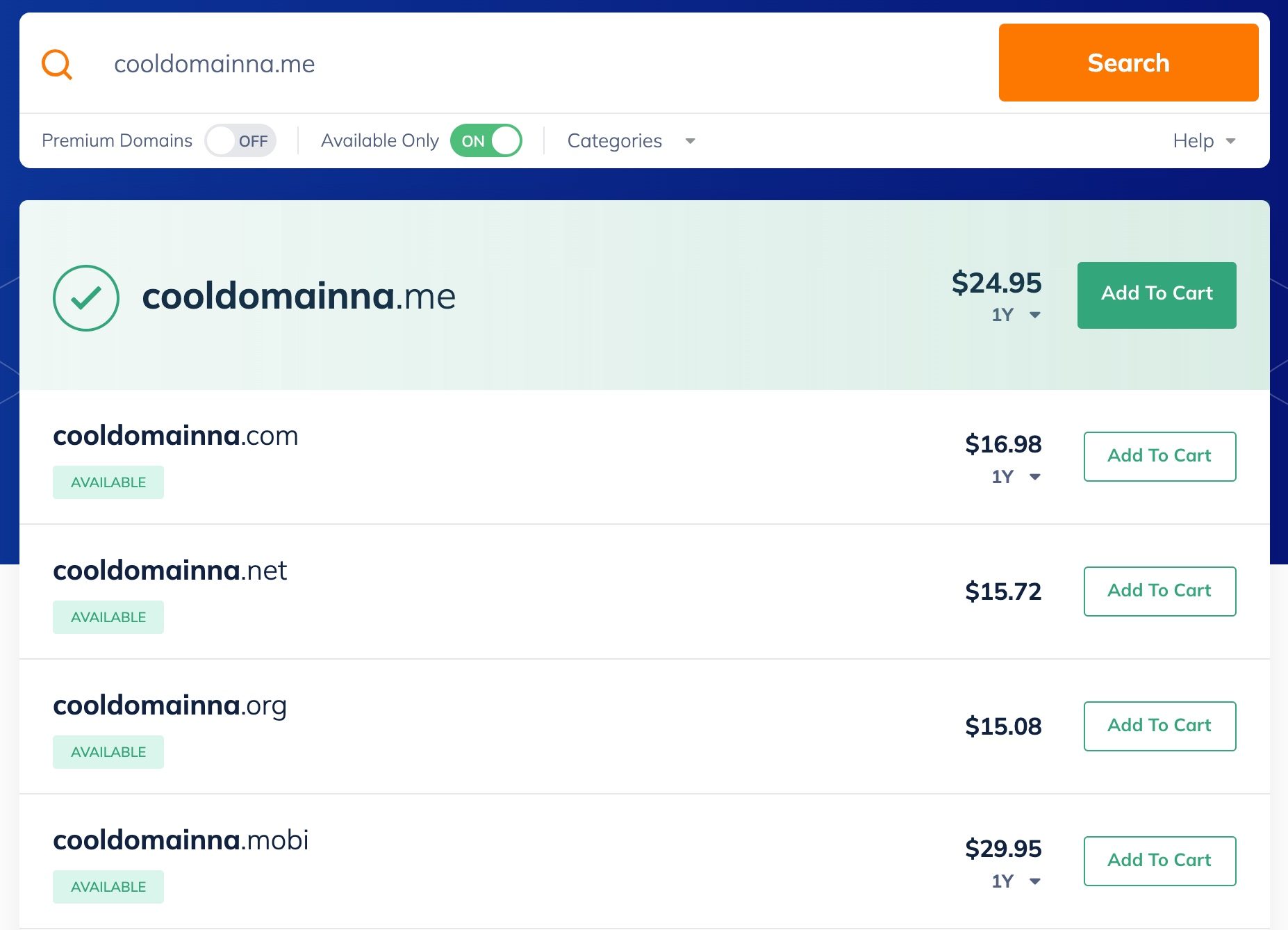 4. Once you've selected your preferred choice, click Add to Cart.
5. Go through the steps to complete the entire site registration and purchase process. You'll have the chance to choose which NameHero plan you want to subscribe to, in addition to other optional choices like add-on domain privacy.
6. Remember to complete your checkout before you navigate away from the page. It's an easy process!
If you already own your .me domain and you simply want to transfer it to NameHero, you can do that, too. Our team is standing by to support you.
Thinking About a .me Domain Extension for Your Website?
Ready to register your own .me domain for your personal or professional website? At NameHero, it's both affordable and easy to get started. We offer subscription packages that fit any budget, whether you're new to the online world or a seasoned website owner.
You'll love our support and tools. Register your .me domain name at NameHero today. We're looking forward to hosting you!
Haley Walden is an intuitive brand voice copywriter who helps thought leaders and innovative brands position themselves as industry experts, influencers, and visionaries in their fields. She's a multi-passionate geek with many obsessions, including books, martial arts, film, music, and musicals. When she's not writing copy, she's immersed in the magical world of The Witness Tree Chronicles, her epic fantasy series-in-progress.