So you're ready to start your own website. Once you've taken the first step of selecting the best website host for your needs, you'll want to start thinking about your domain name.
Aside from the site name itself, your domain name extension is also an important choice. For instance, should you choose a .com or a .net?
You've likely familiarized yourself with domain name extensions over the years, including .com vs .net, .org, and many other creative options.
The .com and .net domain extensions are the most popular generic top level domain (gTLD) options available, so we'll break those options down in this article.
Whether you're a first-time website owner or have plenty of experience in the online world, selecting the right domain extension is always an important step of the process.
It's easy, affordable, and fun to choose your domain name and right domain extension. First, let's talk about the importance of your domain name and why it matters to your site and its visitors.
Why Domain Extensions Matter For Your Website and Its Visitors
Domain extensions can tell your site visitors quite a lot about the nature of your website or business before they ever land on your homepage.
Specifically, domain name extensions such as .com and .net have their own specific meanings. These meanings act as descriptors for your site, so that visitors can get an idea of what you're all about prior to clicking your link.
Let's dig a little deeper into the meanings of .com and .net domains and why you might want to choose one over the other.
What's a .com Domain Name and What Does It Mean?

.com domain name extensions were originally intended commercial websites. These include businesses, service providers, online stores, and more. Over time, this domain extension grew to encompass websites of all kinds, both personal websites and commercial businesses.
.com is the most commonly used domain extension on the web, accounting for 46.8% of all sites currently online. This website domain name extension is a great choice for just about any kind of website.
It's memorable and reliable, and if you're able to secure the name you want, you'll give your website a professional domain right out of the gate.
What's is the .net Domain Extension and What Does It Mean?

.net domain extensions are often used in the tech industry. Its original meaning stood for "network," so websites providing network support products and services were more likely to select .net domains.
Oftentimes, .net is still associated with tech industry websites, software services, and network-centric businesses. However, it has become more widely used over the years.
In contrast to .com, .net websites account for roughly 2.8% of the websites online. This much lower usage could allow you to purchase a domain name that you might not be able to get with a .com domain name extension.
How Much Do .com or .net Domain Extensions Cost?
Depending on your website host, .com or .net domain extensions can cost anywhere from free to hundreds of dollars – or more. Its price depends on its availability.
For example, if you buy an available domain name from a website host, you might be able to get a free domain name with your website hosting plan. Otherwise, domain names average anywhere from $10 to $20 USD.
The website host you choose will influence how much your domain name costs. If you purchase your domain name through NameHero, for instance, you could be paying an average of $16 USD per year for a .com or .net domain extension.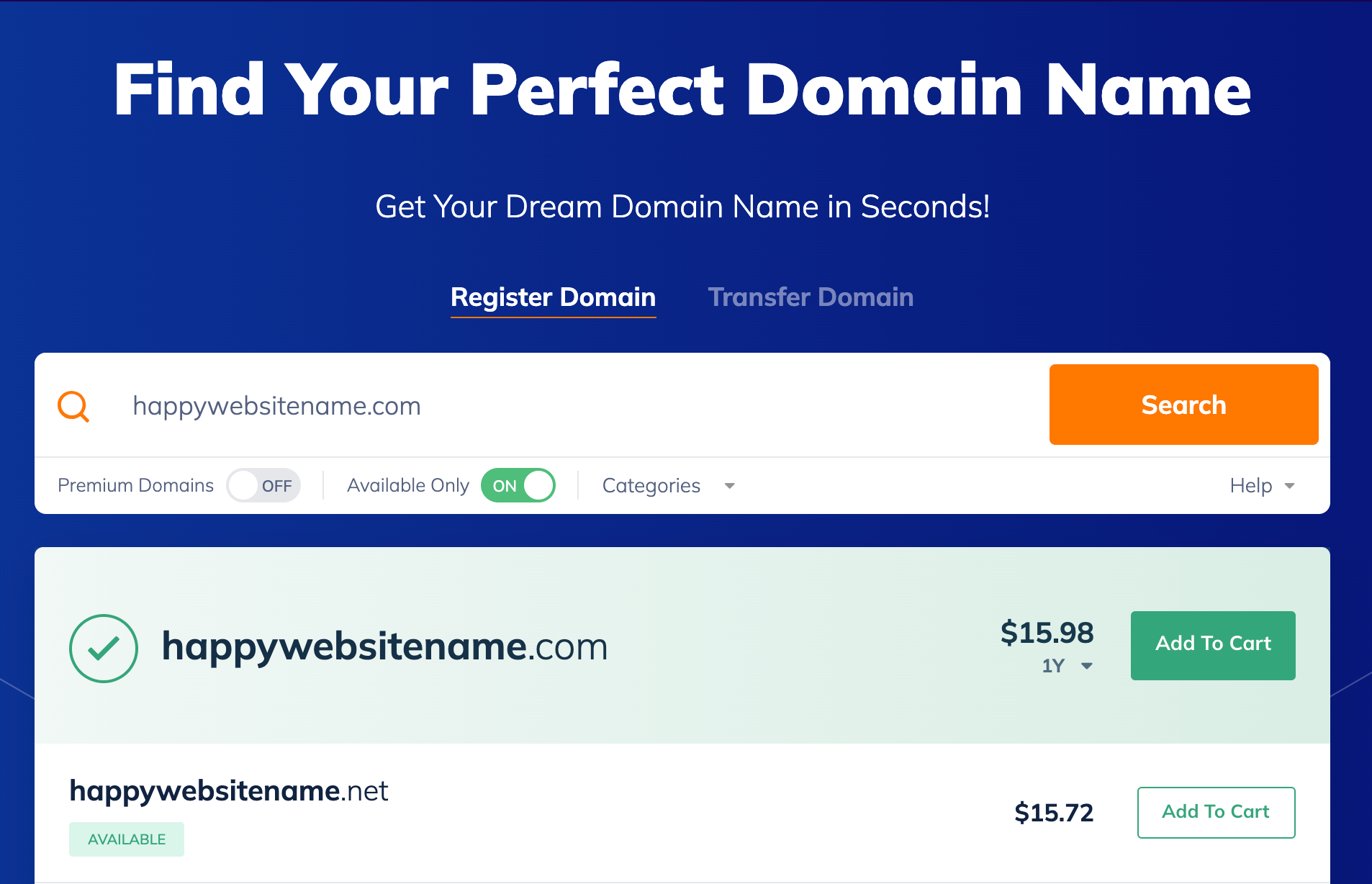 However, our Turbo Cloud and Business Cloud plans include a free domain name when purchasing a 24- or 36-month term. In some cases, that might be the most economical option.
On the other hand, you can search for premium domain names, which will cost more but could provide great ROI in the long run.
(Read all about premium domain names and how our CEO, Ryan, purchased the NameHero.com name for nearly $7000 in this article.)
On the other hand, you might want to purchase a domain name that's already taken.
If you have to buy the domain name from an individual or company that currently owns it, you could end up spending hundreds, even thousands, of dollars on the domain name. Its final cost will depend on the value of the name, what it's worth to the current owner, and what it's worth to you.
Should You Get a .com or .net Extension?
Deciding on your domain name, as well as the domain extension you want, comes down to a few different factors, such as:
How you want your website to be known
Whether the domain name you want is available with a .com domain extension
How you want to show up in the search engines
What industry you're part of
How much money you want to spend on a domain name
Getting a .com extension is advantageous in terms of credibility and results in the search engines. Because most websites boast .com domain extensions, you'd be among the majority.
However, because the .com domain extension is the most popular online, you might run into trouble securing the domain name you really want. That's because it might be taken already.
Business websites often use both .com and .net domains. If you're in the tech world, then a .net extension might be a good fit for your needs. Plus, you might be able to get domain names with the .net domain extension that are unavailable as .com.
In the end, you'll need to consider which domain name feels like the best for for your website.
Aside from the nuance associated with .com and .net domain names, there's something else to consider: how your desired domain name could potentially affect search engine optimization (SEO).
Which Domain Name Extension is Better for Search Engine Optimization (SEO)?
Whether you're setting up a business website or a personal blog, the domain extension you choose has the potential to be impacted by SEO. However, in isolation, domain name extensions actually don't affect your search rankings.
But there's one area where you could run into SEO problems.
Let's say that you chose a .net domain because its .com counterpart was already taken.
If the .com domain name is an established, successful website already, you're going to struggle with building search authority.
That's because the .com website is already well established, so it's the first thing users see when they search for your site or business name. You're burying yourself deep in the search engine rankings before you even begin.
The same would be true if you purchased the .com counterpart of a popular or established .net domain extension.
It's really in your best interest to select a domain name that isn't already being used widely. You don't want to create unnecessary competition for yourself in the search engines before you've gotten your business website up and running.
What to Do If The Domain Name You Want is Already Taken
If the domain name you want is taken already, you'll want to find out whether it's actually in use.
First, head over to Google to find out whether the website address is an established site, or if it's a parked domain.
A parked domain means someone owns a domain, but they haven't published a website yet.
It's possible that you could purchase the name from its current owner. But first, you'll need to find out who that is.
Some sleuthing may be involved, but there are a few different ways to find out how owns a domain name, including searching the domain's WHOIS records.
You may need to be prepared to pay more for a domain you want to purchase in this way. The domain name itself could be more expensive, depending on the owner's asking price.
These days, online privacy and security are more important than ever, so the domain owner's identity might be hidden. You may need to spend extra time and money making contact with the site owner in the first place, such as paying for domain brokerage services.
How to Secure Your Own .com or .net Domain Name With NameHero
It's easy to purchase domain names through NameHero. We also make transferring your domain name easy!
When you sign up for website hosting through NameHero, one of the first things you'll do is search for and select your domain name.
In fact, you can even search for the domain names you want before you sign up using our domain name search tool.
We make domain registration easy and straightforward. You could even qualify for free domain name registration with the purchase of certain subscriptions.
Here's how it works.
How to Search Available Domain Names on NameHero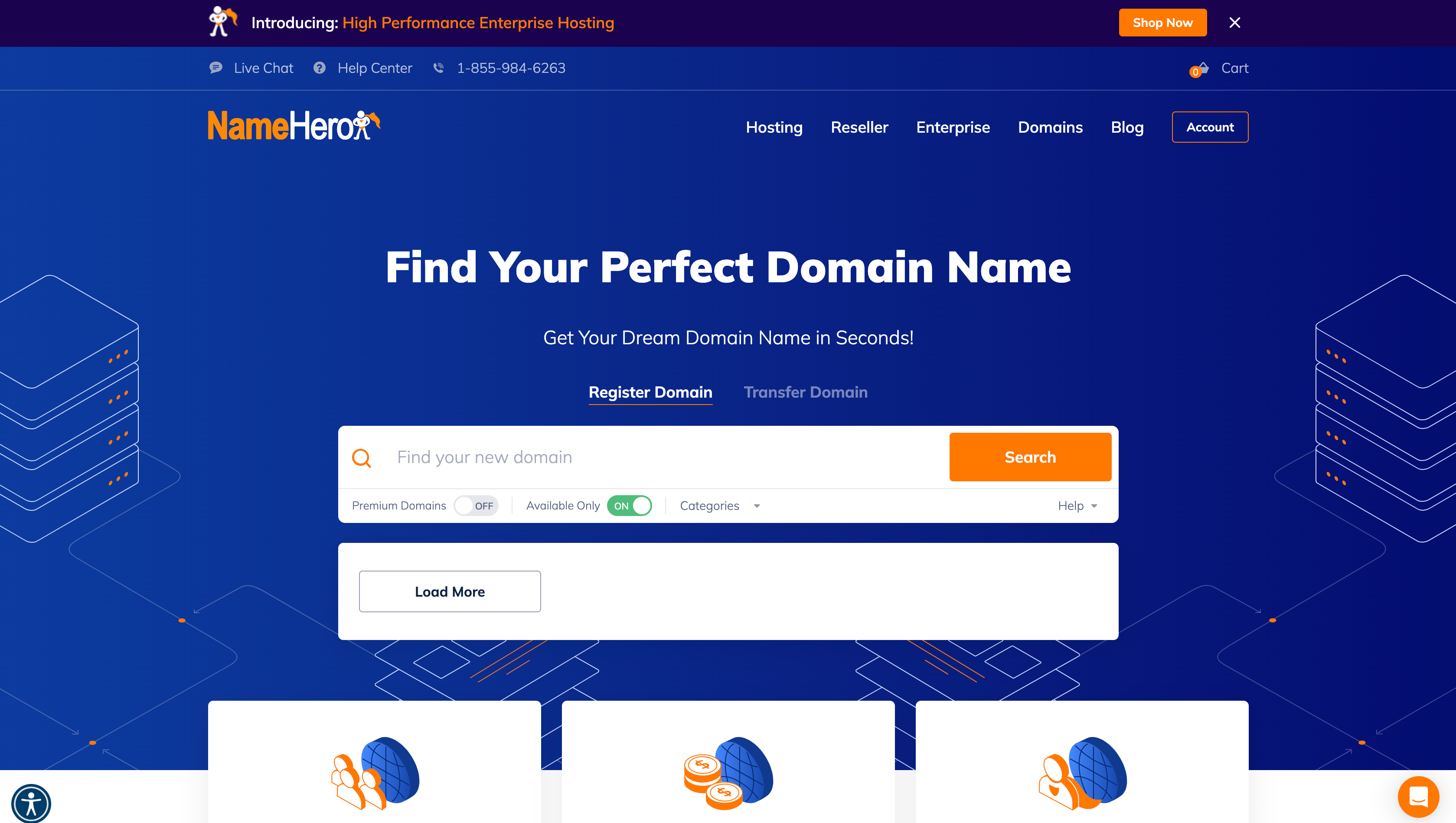 To get started, open a new browser tab and navigate to https://www.namehero.com/domains.
1. You'll see a search tool at the top of the page.
2. Enter the domain name you'd like into the search bar and click Search.

3. A list of available domain names will populate. You'll notice that there are a variety of different extensions available beyond .com and .net extensions.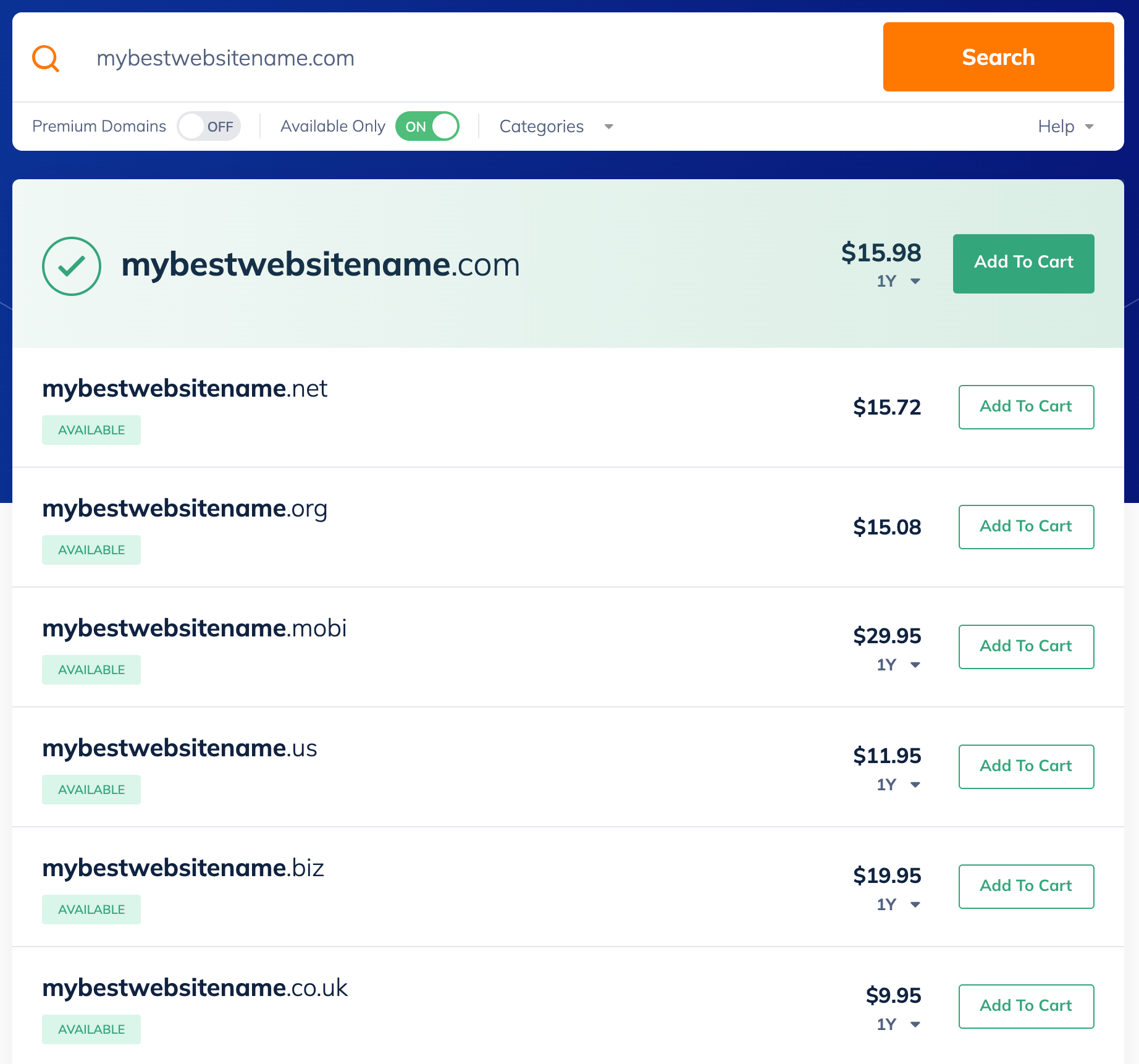 4. You'll notice that the list includes a wide range of domain name options, all at different price points. Choose the one that works best for you and click Add to Cart.
That's it! You've begun the process of setting up your website. Don't forget to finish the process by selecting the hosting subscription you want and completing your order.
Which Domain Name Will You Choose?
Now that you understand the differences between the .com and .net domain name extensions, which will you choose? Do you have a preferred domain name extension? Either way, NameHero makes the process of finding and purchasing top level domains easy, quick, and affordable.
Ready to secure your domain name? Find the perfect .com or .net domain names at NameHero.
Haley Walden is an intuitive brand voice copywriter who helps thought leaders and innovative brands position themselves as industry experts, influencers, and visionaries in their fields. She's a multi-passionate geek with many obsessions, including books, martial arts, film, music, and musicals. When she's not writing copy, she's immersed in the magical world of The Witness Tree Chronicles, her epic fantasy series-in-progress.