GoDaddy is one of the most popular web hosting providers on the market, offering WordPress-specific plans, domain name registration, and other services. However, it comes with a few restrictions, such as the inability to create multiple sites on the same account. Therefore, you might be looking for a few GoDaddy alternatives to power your websites. 
Fortunately, there are several web hosts that provide more features and options than GoDaddy does. By taking a close look at their web hosting plans, you should be able to find a solution that meets your specific needs and budget.
In this post, we'll discuss why you might choose GoDaddy alternatives for your web projects. Then we'll look at some of the best options in the web hosting industry. Let's get started!
Why You Might Be Looking for GoDaddy Alternatives
GoDaddy is a leading web hosting provider for WordPress (and other) websites. It's mostly known for its affordable, beginner-friendly plans: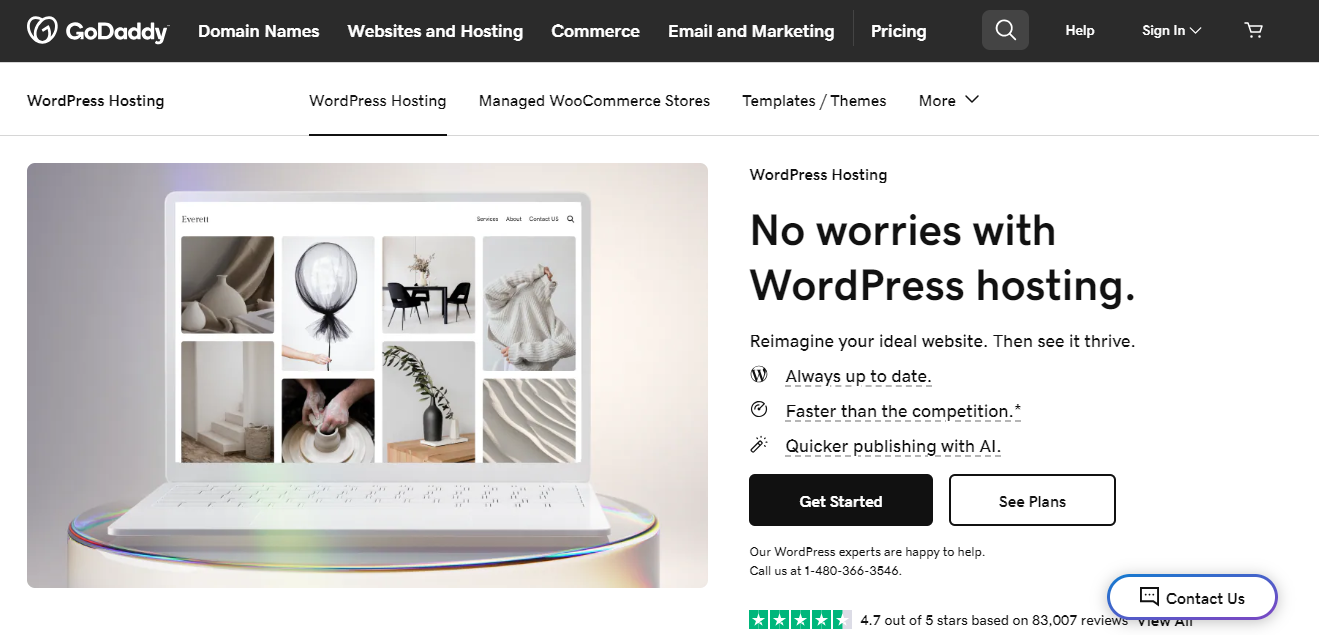 Along with web hosting, GoDaddy offers an extensive domain name service, which includes domain transfers, appraisals, and auctions. Its web hosting plans include a free domain name, although you'll need to pay for it upon renewal.
If you're creating your first WordPress site, especially if it's a small-scale project, GoDaddy's plans will likely offer all the resources you need. However, if you're planning to start multiple blogs or you want more control over your web hosting environment, you might need to consider an alternative platform.
This is because GoDaddy hosting services have two main drawbacks. Its WordPress plans only support one website, and they're all managed.
On a managed web hosting plan, the web host will typically handle some basic tasks for you. For instance, GoDaddy offers daily backups and malware scans, along with automatic WordPress core software and security updates on its managed WordPress services.
This can be helpful if you don't have the time or resources to perform these tasks yourself (or hire a developer to do so). However, it also means you don't have much control over how your website is managed.
If you'd rather perform your own backups, scans, and updates (and choose your own preferred tools to do so), you'll need an unmanaged solution. Unfortunately, all GoDaddy WordPress plans are managed. Additionally, these plans only let you create one website.
While GoDaddy's general web hosting plans are unmanaged and support multiple sites, these aren't ideal if you're looking for a WordPress-specific solution. It's best to opt for web hosting services designed to accommodate the platform you're using. With that in mind, we'll be looking at some GoDaddy alternatives for WordPress sites.
5 GoDaddy Alternatives for Website Owners
As we have seen, GoDaddy might not be the best option if you have multiple WordPress blogs and want to host them on the same account. Plus, if you want more control over updates and backups, you'll need an unmanaged web hosting solution, which isn't offered by GoDaddy.
So what web hosting provider should you choose instead? To get you started, here are five of the best GoDaddy alternatives for website owners.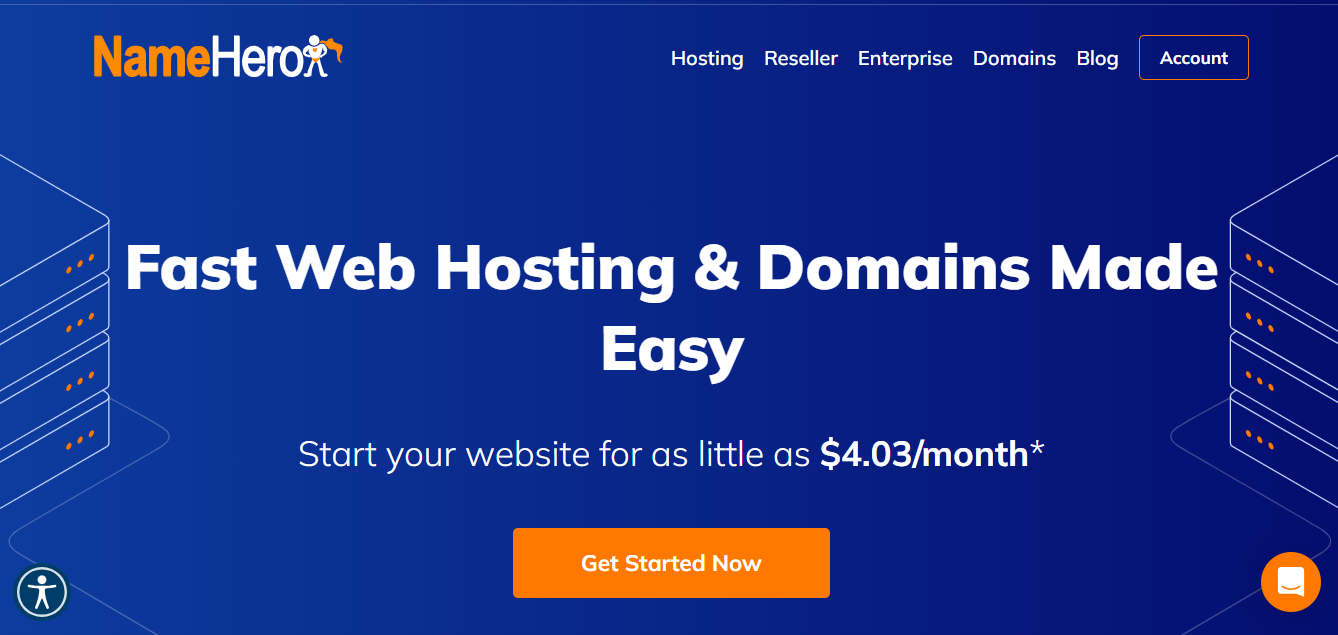 At NameHero, we offer WordPress plans for both beginners and more advanced users. There's a starter plan that hosts one website, and a pro plan that enables you to create up to seven websites on a single account.
If that's not enough, the turbo and business plans support unlimited websites. You'll also get a free domain with either of those plans. Even if you opt for a lower-tier plan, however, you can easily register your domain name with NameHero at an affordable price.
NameHero is a handy solution if you want a managed WordPress plan that can host multiple websites. All WordPress web hosting solutions include auto updates and daily backups, so you won't need to worry about keeping your sites in good shape.
Additionally, NameHero web hosting comes with a free SSL certificate that's automatically installed. Plus, you'll get a caching solution designed to boost your site's performance.
Price
The Starter WordPress plan costs $4.48 per month. If you want the ability to create unlimited websites, the Turbo WordPress plan starts at $10.97 per month.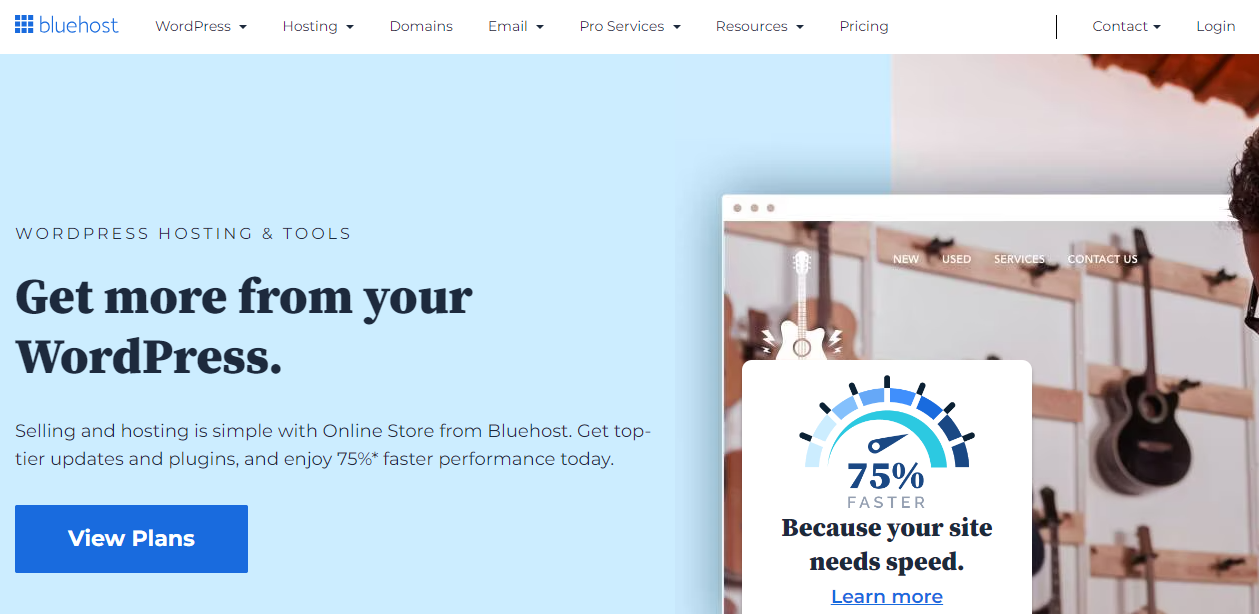 Bluehost is another of our GoDaddy alternatives worth considering. This web host is known for its cheap WordPress plans and simple setup process.
When you create a new site, Bluehost automatically installs the latest version of WordPress for you. Additionally, it gives you access to a library of high-quality templates, a multipurpose theme, and all the tools you'll need to customize your website.
All Bluehost web hosting plans include a free domain for one year, automatic WordPress updates, a free SSL certificate, and a Content Delivery Network (CDN). The downside is that the basic plan only lets you create one website. Even the higher-tier plans can be a little limiting, allowing you to create three to five websites.
Price
Bluehost's Basic plan starts at $2.76 per month. The Pro plan lets you create up to five websites and comes with malware scanning and daily backups, starting at $9.30 per month.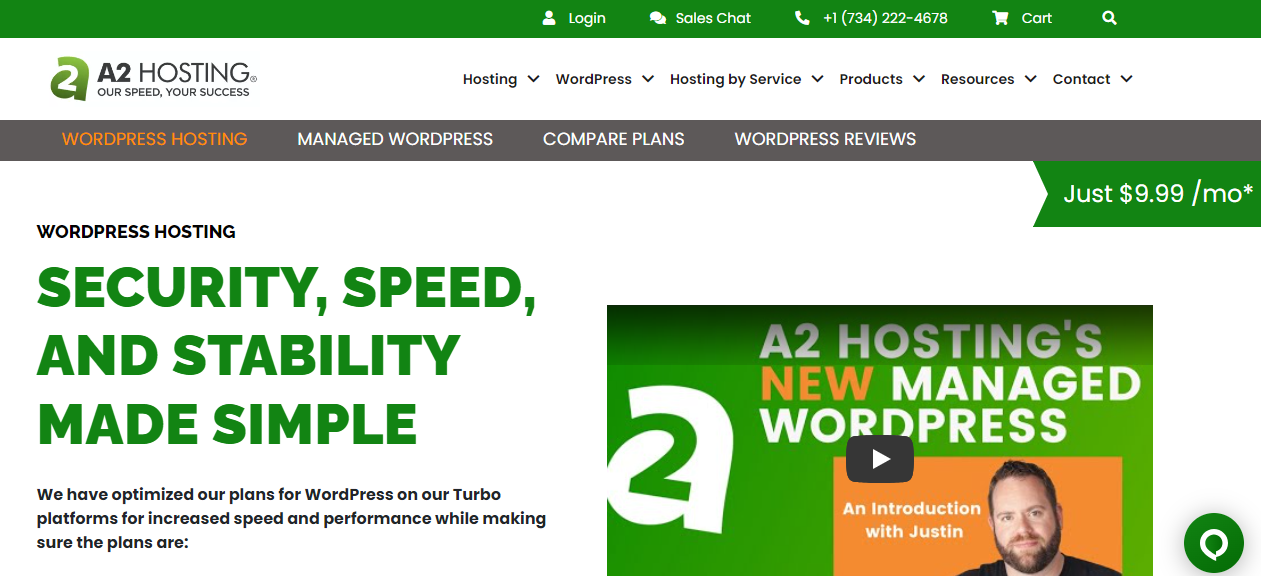 Next on our list of GoDaddy competitors is A2 Hosting. This web host's main selling points are speed and performance. In fact, all of its managed WordPress plans are hosted on Turbo servers.
However, if you want to save money or you're just starting out, you might opt for A2 Hosting's shared web hosting plans instead. These support unlimited websites (except the Startup plan, which is designed for a single site) and include a free website builder and free SSL certificate.
You'll also get unlimited email accounts linked to your website. This is useful if you have a business with different departments, such as marketing, sales, and accounts.
The main issue with A2 Hosting is that it's a little pricey when compared to other web hosting services. If you want a managed WordPress plan or a Turbo server, you'll need to be prepared to spend more money on hosting each month.
Price
The Startup plan (unmanaged web hosting) only costs $1.99 per month. But as mentioned above, you'll only get one website. The Turbo plans start at $5.99 per month and support unlimited websites.
Meanwhile, A2 Hosting's managed WordPress hosting starts at $9.99 per month (for one website). If you want unlimited WordPress websites, you'll need to pay at least $26.99 per month.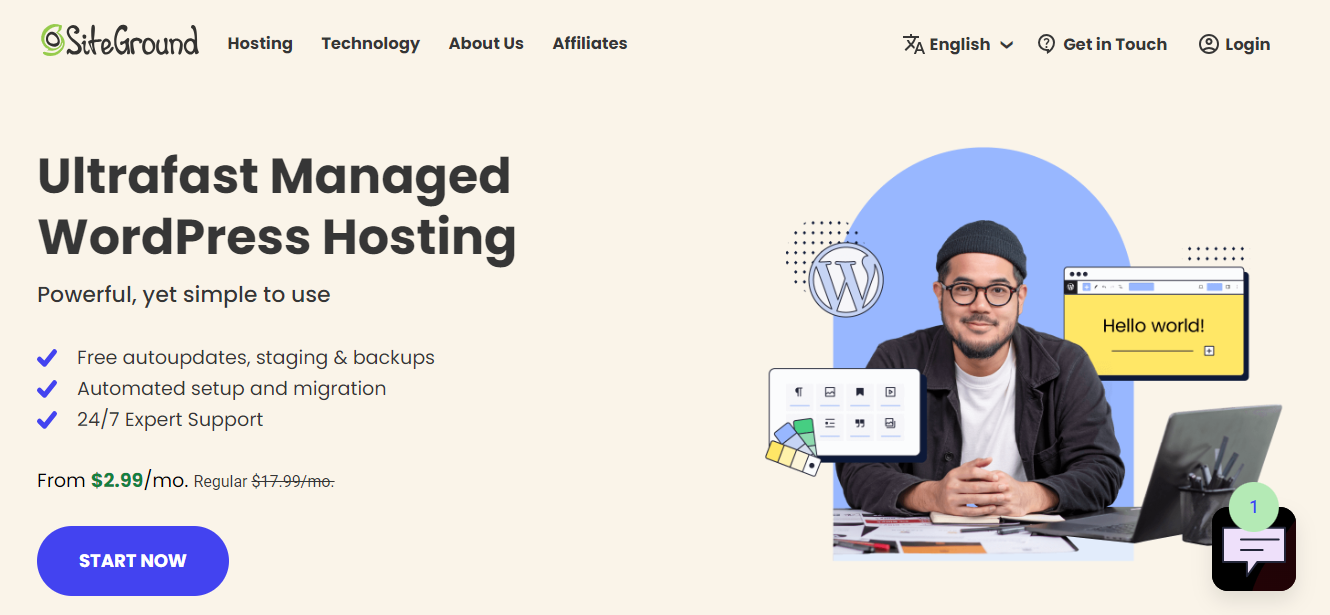 SiteGround is a web hosting service that primarily caters to WordPress sites and WooCommerce shops. It offers both managed and unmanaged solutions, with no difference in prices between those tiers.
Siteground's managed WordPress plans are packed with features. For example, the StartUp plan comes with a free SSL certificate and CDN, daily backups, a web application firewall for added security, and a powerful caching tool. The main downside is that it only supports one website.
The GrowBig and GoGeek plans allow for unlimited websites, but they don't include many additional features. The same applies to SiteGround's WooCommerce plans. The higher-tier plans include the same features as the Startup plan, with the main differences being staging support and on-demand backup copies.
Therefore, it can be difficult to justify the additional cost for these plans if you're only interested in hosting multiple sites. Still, SiteGround does offer its own caching and security solutions. This makes it worth investing in if you want to prioritize safety and performance on a single website.
Price
The StartUp plans cost $2.99 per month. If you want access to unlimited sites, the GrowBig plan starts at $4.99 per month.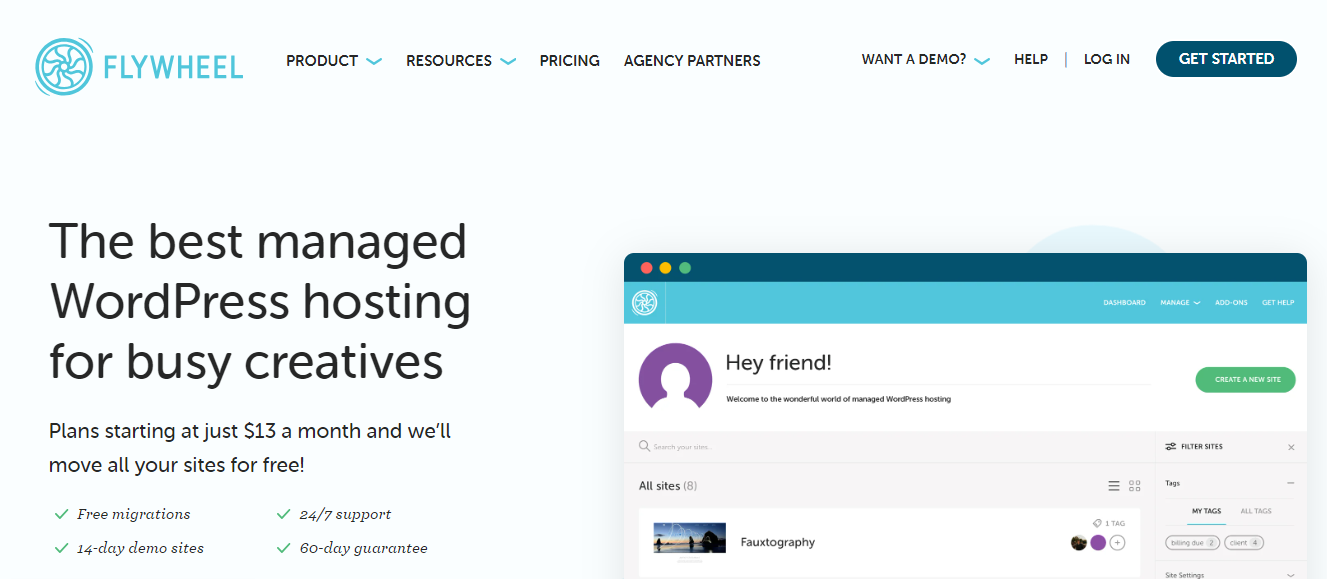 Last on our list of GoDaddy alternatives, let's look at Flywheel. This web host offers managed WordPress hosting services for creatives and web design professionals, along with WooCommerce-specific plans.
Flywheel's plans come with several unique features, including auto-healing technology that enables your website to fix itself when it crashes. It also offers a custom caching solution, free malware cleanups, automatic nightly backups, and auto updates.
As you can probably guess, these plans are on the pricey side. Additionally, there are no unmanaged options. However, Flywheel can be worth considering if you want to grow and monetize your blog or small business.
Price
Flywheel's cheapest WordPress plan starts at $13 per month, and only supports one website. If you're a freelancer and want to grow your client portfolio, you might opt for the Freelance plan. This lets you create up to 10 sites for $96 per month.
Then, if your freelance business evolves into a creative agency, you can upgrade to the Agency plan. This supports up to 30 websites, and starts at $242 per month.
Conclusion
GoDaddy is a popular web hosting provider, but it has some restrictions. For example, its WordPress hosting plans are all managed, and they only support one website per plan. If you want to create multiple WordPress sites easily, you'll need to consider a different hosting solution.
To recap, here are five of the best GoDaddy alternatives that might suit your needs better:
Have you tried any of the GoDaddy alternatives featured in this post, and what was your experience like? Let us know in the comments section below!
Sophia is a staff writer at WordCandy.co, where she produces quality blog content for WordPress plugin and theme developers, hosting providers, website development and design agencies, and other online businesses.