Have you heard the term Private DNS? Ever wondered what it means and why it even matters? Or you might know what it means but aren't quite sure how to enable private DNS for your device. Either way, you're in the right place.
Private DNS is a service that allows you to encrypt DNS queries, enabling a private and more secure connection. Why does it even matter? A private DNS can protect your online privacy by encrypting all your online activity.
But what is Private DNS? And how do I set up a private DNS service on my device? I will share the answers to these questions and more in this article. Consider this a detailed guide on setting up Private DNS. Let's get started!
What is Private DNS, Exactly?
To understand what Private DNS means, let's quickly check in with what DNS means. DNS stands for Domain Name System and has been called a phone book for the internet by many.
When you type a domain name into your browser (say, namehero.com), the DNS server converts that domain name into an IP address.
Private DNS mode is basically a setting that enables you to use your custom DNS server instead of the DNS provided by your ISP. It ensures that your web browsing traffic is encrypted.
In my opinion, Private DNS is slowly becoming essential in times like today, where it prevents your ISP from monitoring and potentially selling your data to third-party advertisers.
With Private DNS enabled, your DNS requests remain private, secure, and faster, as your ISP does not store and analyze them. However, it's worth noting that you must choose a trusted Private DNS provider to avoid exposing your data to different malicious threats.
How Do DNS Servers Even Work?
When you type a website's URL (e.g., facebook.com) into your browser, your computer sends a query to a DNS server. What this means is that the query is looking to translate that domain name (facebook.com) into an IP address.
The DNS server looks up the requested domain name in its database and returns the IP address((69.63. 176.13. 69.63)).
Internet Service Providers (ISPs) typically provide DNS servers to their customers. What's been worrying in recent times is that these servers are often unprotected and vulnerable to hacking and cyberattacks.
Why Would You Need To Use a Private DNS Provider?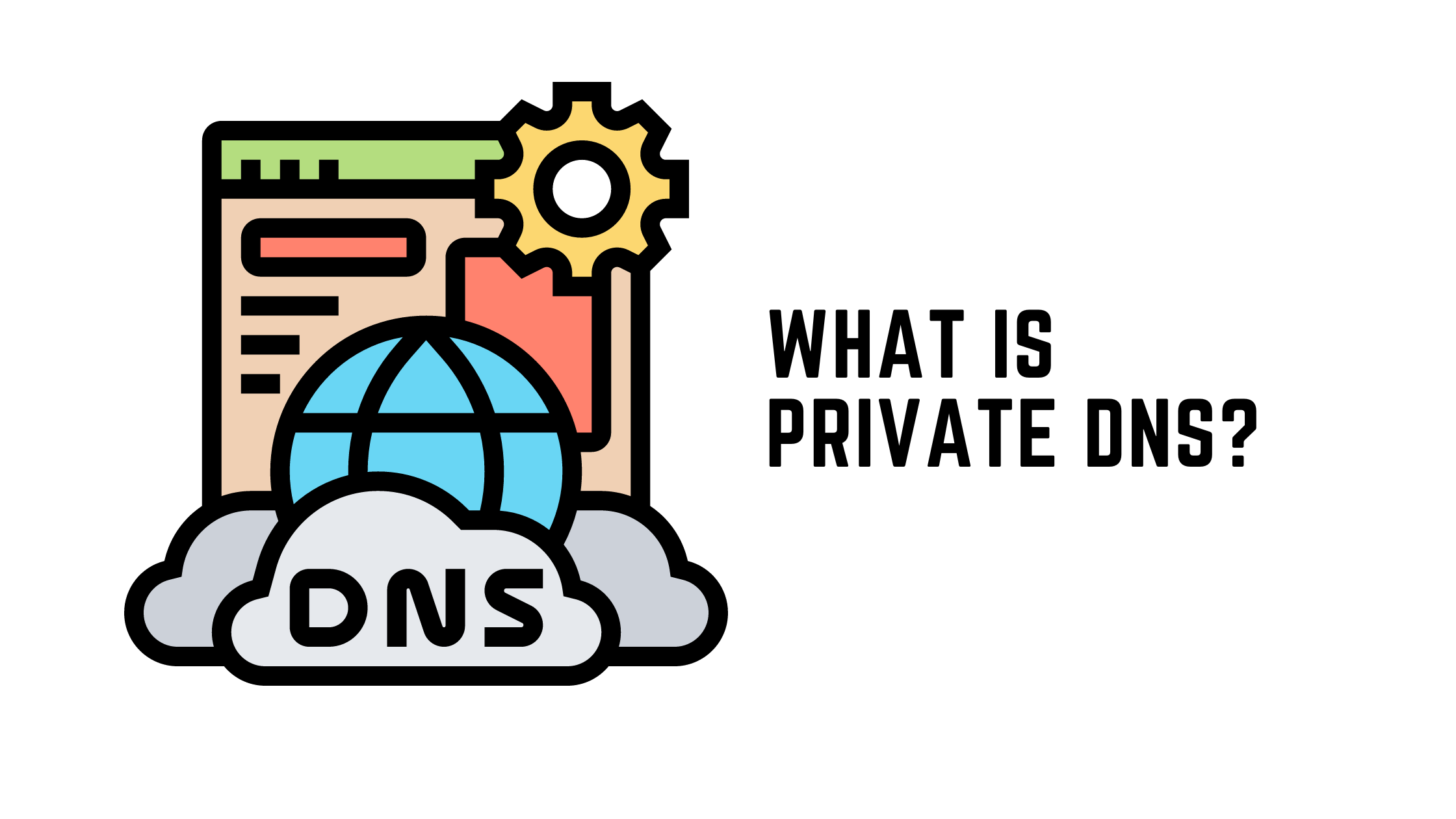 Using a Private DNS provider is an effective way to protect yourself from DNS tampering and snooping. Private DNS providers offer encrypted DNS services, which are not only faster but provide an extra layer of privacy and security.
Third-party DNS providers like Cloudflare and Google DNS offer free Public DNS services that you can use to protect your online privacy. These DNS services also block malicious websites, phishing scams, and other online threats.
Note: Google provides a free tool known as Namebench, which compares speeds among many DNS providers. It might be worth checking out if you'd like to research before picking a private DNS provider.
Why You Should Use Private DNS On Your Smartphone?
Smartphones nowadays store personal and sensitive information such as banking activity, health records, and social media accounts. This makes smartphones highly vulnerable to cyber-attacks.
An unsecured DNS server can be easily manipulated, exposing your device to security risks and privacy breaches. Using Private DNS on your smartphone protects your online identity and sensitive information.
Private DNS is especially helpful on public Wi-Fi hotspots, keeping your web browsing activity more secure.
How Do You Set Up Private DNS Mode? (Step-By-Step Instructions For Every Device)
How To Set Up the Private DNS Feature in Android?
Android users can easily enable Private DNS by going to their device's settings and selecting the network and internet options. Next, choose Private DNS, enter the Private DNS provider's hostname, e.g., 1dot1dot1dot1.cloudflare-dns.com, and click Save.
Cloudflare's blog also offers a detailed tutorial on accessing the private DNS feature for Android users. Check out the screenshot below from their blog.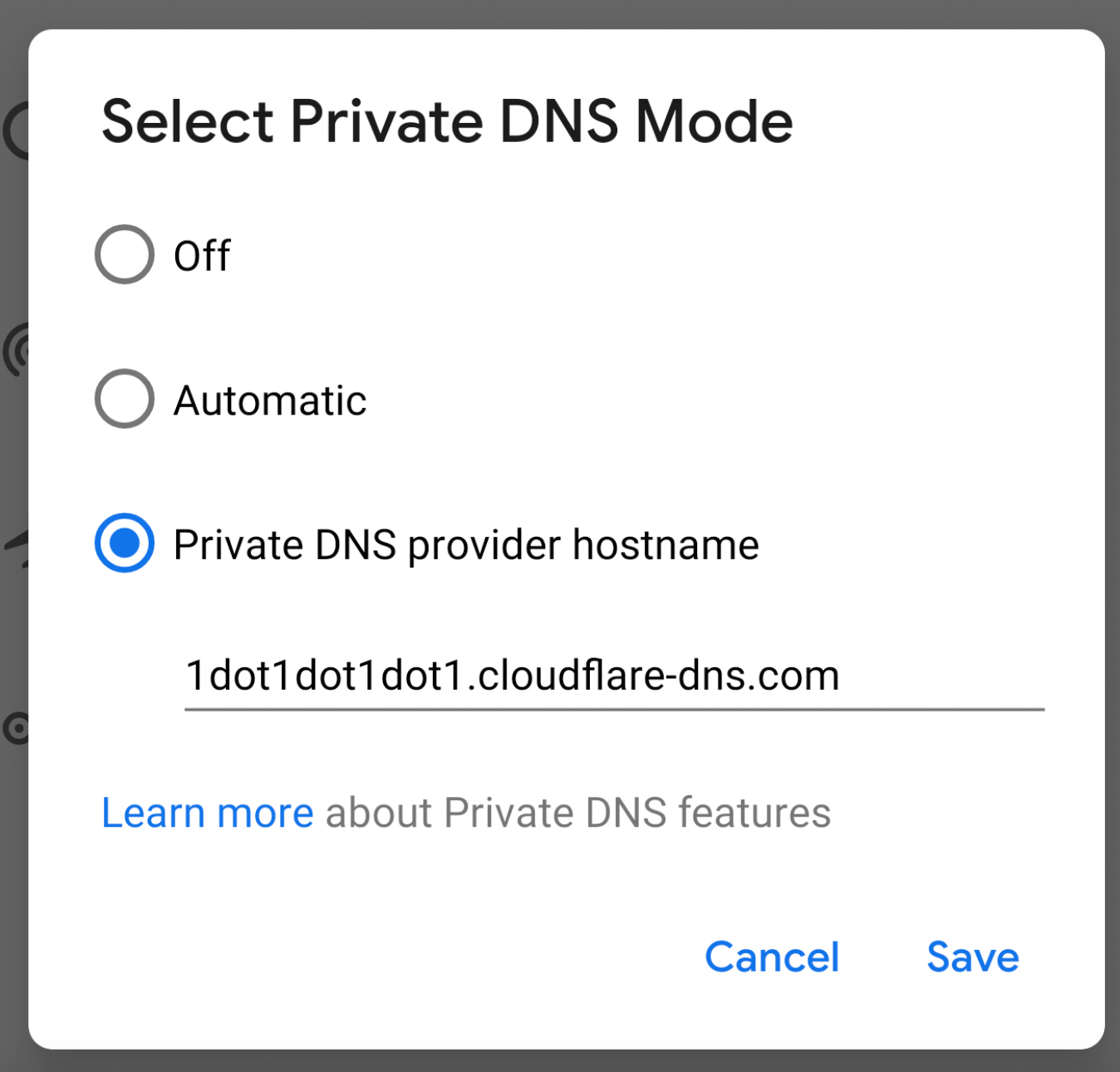 How To Set Up Private DNS On Windows?
Setting up private DNS on a Windows device is relatively easy. Press the Windows Key and search for "Network and Sharing Center." Next, select the "Change adapter settings" option. After that, select "Properties" and further select "Internet Protocol Version 4."
Finally, choose "Properties" again, select "Use the Following DNS Server Addresses," and type in the IP addresses of your private DNS provider.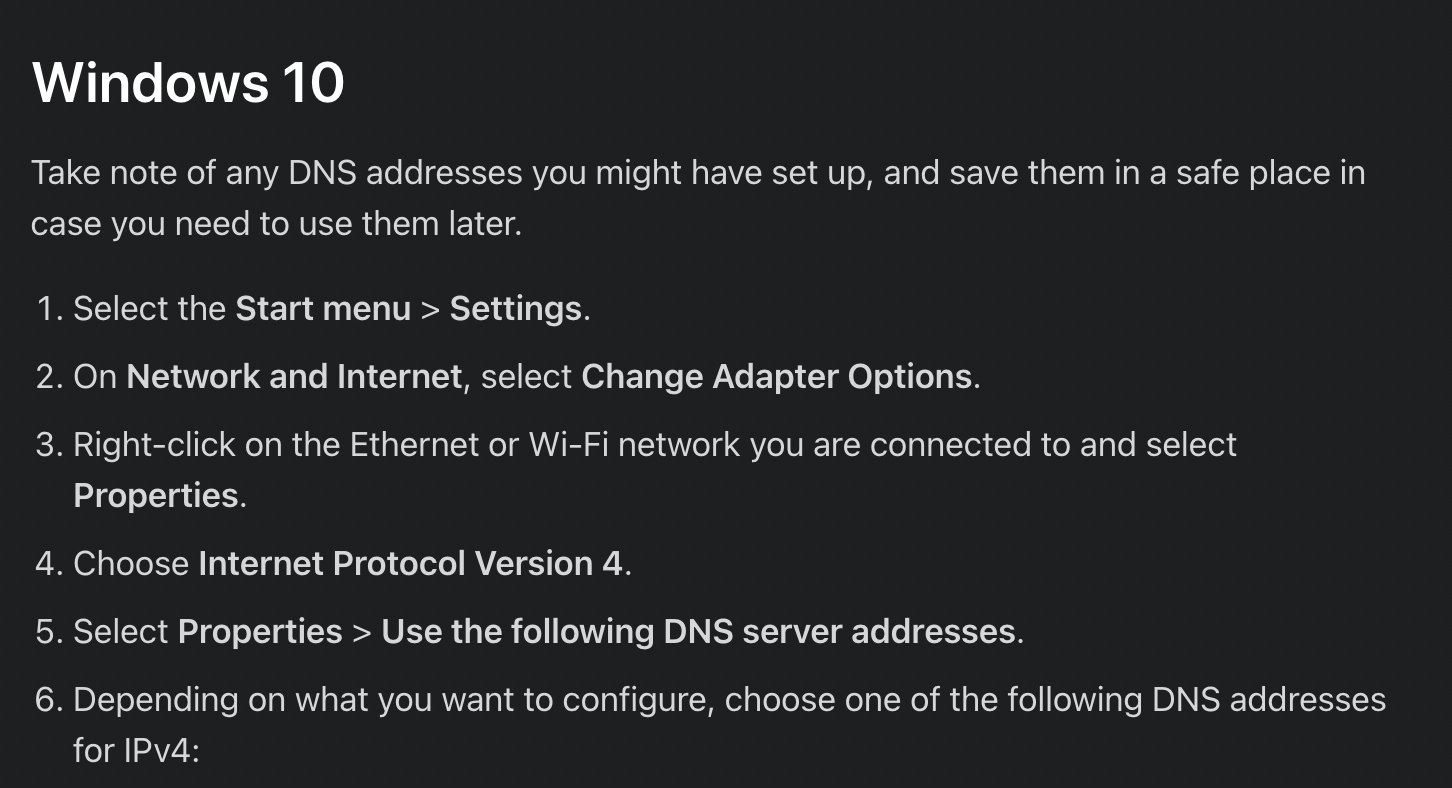 How To Set Up Private DNS on an iPhone?
Setting up private DNS on an iPhone differs slightly from Android and Windows setup. First, go to Settings, then Wi-Fi, and click on the "i" icon next to your network connection. Click on "Configure DNS", then select "Manual." You should now see an option called "Add Server" to add the Private DNS provider's IP address.
How to Configure Private DNS on Mac?
Configuring Private DNS on a Mac involves a few easy steps. First, hit spotlight search and look for "system preferences," then click on Network. From here, click the Advanced button. Click on the DNS tab and the "+" button to add your Private DNS provider's hostname or IP address.
Check out the screenshot below to see what it looks like on my MacBook.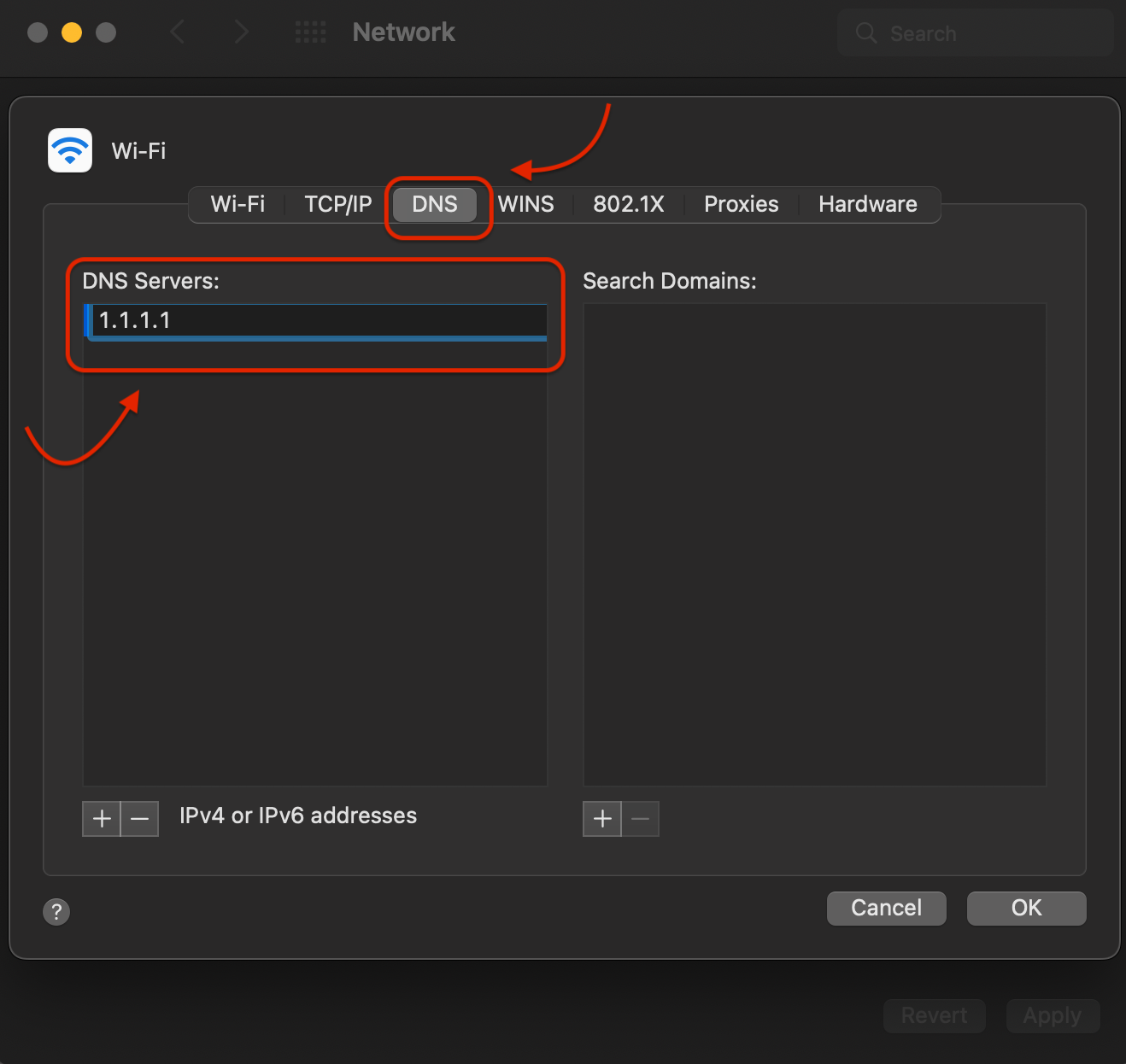 Conclusion: Final Thoughts
In conclusion, private DNS protects your online privacy from cyber threats and hacking attempts.
Setting up Private DNS on your device is pretty easy and straightforward. You can also choose from many free and paid Private DNS provider services and compare them on Namebench before choosing.
I hope this guide helped you understand what private DNS means. You should be ready to set it up on your device and get away from prying eyes. So, get started now. Take control of your online privacy today and set up private DNS on your devices!
While You're Here: Check Out Namehero
If you're looking for secure and reliable web hosting, check out NameHero for all your web hosting needs.
We provide businesses worldwide with server hosting services at a fraction of the cost you might be currently paying! Click here to learn more about different website hosting plans.
Nirali has over a decade of experience working in marketing with startups in a variety of sectors, including e-commerce, ed-tech, and SaaS. She has a keen understanding of the unique challenges and opportunities facing early-stage companies and a track record of developing effective content strategies that drive growth and engagement.