As a landscaping business owner, you know that the competition is high. To stand out, you need to have a strong online presence, starting with a website.
The process of setting up a website from scratch can seem overwhelming and expensive. Especially if you're a small landscaping business owner with no engineering or design team members. The good news? Thanks to landscaping website templates, or a landscaping WordPress theme, you can set up a website without any technical or design knowledge now.
In this article, I will share a step-by-step guide to building a website for your landscaping business. I will walk you through the entire process, from buying a domain name and hosting plan to recommending a few of the best landscaping website templates. Let's get started.
But First… Why Select A Landscaping WordPress Theme?
The beauty of selecting one of the landscaping website templates below is that the images, content, and look and feel of the WordPress theme already match your business. That way, you don't have to build everything from scratch or repurpose, let's say, an accounting business website in order to get a professional website.
The key is after selecting between the landscaping templates below, you'll want to spend the time to make your landscaping website design unique. There will be other companies that use these same templates but have no fear, they most likely won't in your local market and you can update content, photos, and your logo to make it hard to notice.
Even if 100 other landscaping websites out there used the same WordPress theme, it's unlikely that your entire website would be the same as long as you spend the time updating all the different configurations.
Make sense? Let's get started.
Step 1: Buy a domain name for your business (if you don't already own one)
Your domain name is the web address for your business. It's what people will use to find your website. For example, https://www.groundsguys.com/ is the domain of a popular landscaping website. If you already own a domain name for your website, feel free to jump right to step 2.
Your domain name is the first thing people see when they visit your site, so try to pick a memorable and relevant name. You can buy a domain name through a service such as Namehero's domain registration tool.
Tip: your domain name should include the name of your business or a relevant keyword. This makes it easy to remember and rank higher in search engine results.

Step 2: Buy a hosting plan
Website hosting is essential because it ensures your website is accessible to visitors at all times. Hosting providers own servers that store and securely manage your website's data. Without a hosting provider, your website won't be visible to the public.
Website hosting offers many features, including high-speed website loading, regular backups, and 24/7 technical support. These features are essential for running a website, especially for a business website that needs to be fast and secure.
There are different types of web hosting available, such as shared hosting, VPS hosting, and dedicated hosting, each with its strengths and weaknesses. If you're just starting out, a WordPress hosting plan is perfect. NameHero actually auto installs WordPress with this hosting package so you just click purchase and the login credentials are emailed to you!
That's one less step to getting your landscaping website up and running!

We recommend using NameHero's WordPress hosting for you to get started. It's reliable, easy to use, and comes with top-notch customer support.
When picking your hosting plan, keep in mind factors such as website speed, uptime, storage space, and customer support. NameHero offers hosting plans that meet all these requirements, and more.
Step 3: Pick a landscaping website template
A website template is a pre-designed website that you don't need to build or design from scratch. A huge advantage of using templates is that you can customize the template to your brand's aesthetic and needs. I am specifically selecting landscaping WordPress themes below which are a specific type of landscaping website templates that make it even easier to get up and running.
There are many landscaping website templates that you can pick from and you may even be able to use these for a gardening website or landscape architects business. Here are three of my top picks for WordPress themes with a focus on professional design: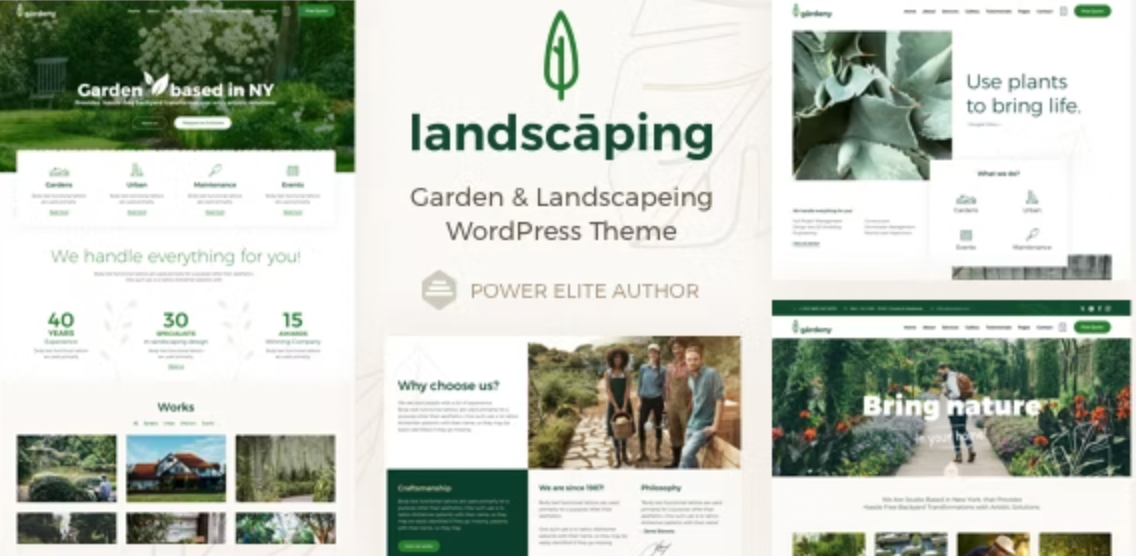 This WordPress template is designed specifically for landscaping businesses. It has features like a customizable homepage, built-in contact form, and testimonials section. This theme is great for landscaping businesses that want a customizable website with powerful features. It's priced higher than other counterparts at $89, but has a solid 5-star rating on Theme Forest, and over two thousand sales so far.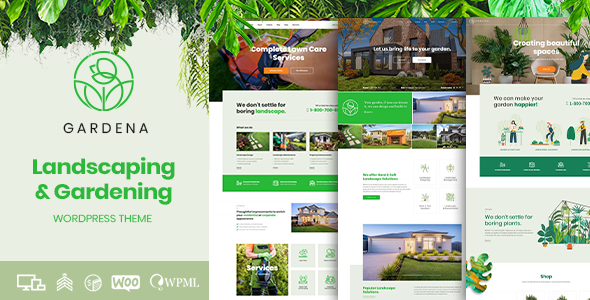 This WordPress template features a simple and clean design, with a customizable homepage slider, services page, and built-in blog. It also comes with a built-in drag-and-drop page builder. This theme is perfect for landscaping businesses that want a sleek and modern design aesthetic.
With a bold and colorful design, this WordPress template includes a customizable homepage, services page, and contact form. With over four thousand sales on Theme Forest, this has to be one of the most popular templates for landscaping businesses. It's priced at $59 and has a 5-star rating.
Note: If you decide to go ahead with any of the above WordPress website templates, make sure to check out Namehero's WordPress hosting. Our WordPress hosting service delivers lightning-fast speed and performance. With our free LiteSpeed caching plugin, you can easily and quickly accelerate your WordPress site with just one click.
Step 4: Personalize your template
Once you've picked a website template, it's time to personalize it for your business. Two important personalization steps that you need to follow are:
#1. Add a logo
Your logo is the face of your business, so it's important to have one that is professional and memorable. You can hire a designer to create a custom logo for your business or buy a pre-made logo from a website like 99designs or Looka.
#2. Create website copy
Create website copy that describes your business and services well. If you don't have an in-house writer, consider hiring a freelance copywriter to write your copy for you.
Make sure to list all of your services, and clearly. Assume that your site visitors don't know anything about landscaping services or lawn services that they may need. For all you know, they could be coming to your site for garden maintenance but if you don't have any content about that then they go straight to a competitor!
That's it, your site will be ready to go live! I'm also adding some tips below to help your website hit page one of Google.
Tips for making your landscaping business website stand out from the crowd
#1. Optimize your website for search engines
Search engine optimization (SEO) is a marketing strategy that helps websites rank higher in search engine results. It involves optimizing your website's content, keywords, tags, and backlinks to improve its visibility and traffic. Read up on SEO best practices or hire an expert to help you with SEO strategy.
Tip: I suggest you use free tools like Google Search Console and Google Analytics to get started.
#2. Use Contact Forms and Call-to-Actions
Contact forms and call-to-actions (CTAs) are essential features for a landscaping business website. They allow your visitors to contact you easily and generate leads and conversions. Place your contact form and CTA buttons strategically on your website, such as your homepage header, service pages, and blog posts.
#3. Showcase Your Portfolio and Testimonials
A landscaping business website is an excellent opportunity to showcase your past projects. Use high-quality photos and videos to display your work. Make sure to include positive reviews and testimonials from satisfied customers.
Conclusion
Follow these steps and tips to create a professional and effective website that sets you apart from the lawn care competition, even if you happen to pick the same landscaping theme as a few other landscaping companies. Luckily, landscaping services are pretty localized so although this is possible, it's easy to distinguish yourself from the pack without dropping thousands of dollars on a completely-made-from-scratch WordPress theme.
Remember to choose a domain name, hosting provider, and landscaping WordPress theme that fits your needs and budget. You can also take it a step further and really focus on the speed of your WordPress site to improve SEO.
With a little persistence and patience, your website will be up and running in no time! And for all your hosting needs, we recommend NameHero.
Nirali has over a decade of experience working in marketing with startups in a variety of sectors, including e-commerce, ed-tech, and SaaS. She has a keen understanding of the unique challenges and opportunities facing early-stage companies and a track record of developing effective content strategies that drive growth and engagement.