Sometimes even the most simple sounding tasks, like how to upload a PDF to WordPress, can be a bit head scratching to start if you don't have much experience using WordPress yet.
In this guide, we'll walk through how to upload PDF files to your WordPress website. All you need is access to your WordPress dashboard and the PDF document that you want to upload.
We'll also get into the reasons why you would want to upload a PDF to your WordPress site and why you might not…
Why Add a PDF to WordPress?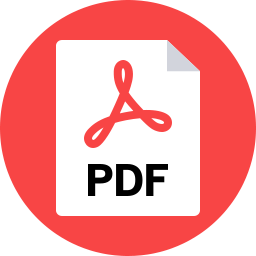 PDF files are a nice way to share information in a professional way and sometimes it's just easier to upload an existing PDF straight to WordPress in order to share that information with your website viewers…
You don't have to worry about how it appears across all devices or have to design anything, everyone has a PDF viewer on their device these days! You can also create a download link so that you can easily share with email recipients instead of having to attach the PDF file to an email and worry about the PDF file size not getting through their email filters.
Additionally, it's pretty common to use PDF documents as lead generation tools for your business. For example, if you have an accounting website, you could offer your visitors a PDF detailing the "3 tips to save on your taxes in 2023", then once they filled out their information in a form, you could redirect them to the PDF file that you uploaded to your WordPress website.
What Are The Downsides To Adding A PDF To WordPress?
Sometimes PDF's are hard to handle on mobile devices if someone needs to save the PDF instead of just use the built-in PDF viewer in their browser. If it's something that you would like for someone to be able to store and refer to later, you may want to investigate emailing the PDF file after they request it via a form a download button or displaying the content as written text on your website.
Secondly, SEO is always worth considering with anything that you do with your WordPress website. Google has confirmed that they can crawl the portable document format, which means that it can consider the content for SEO reasons and also can list it as a separate search result, however, I've found it's better practice to include that content in text within the block editor in WordPress vs. a PDF file.
Top 5 Reasons To Upload A PDF to WordPress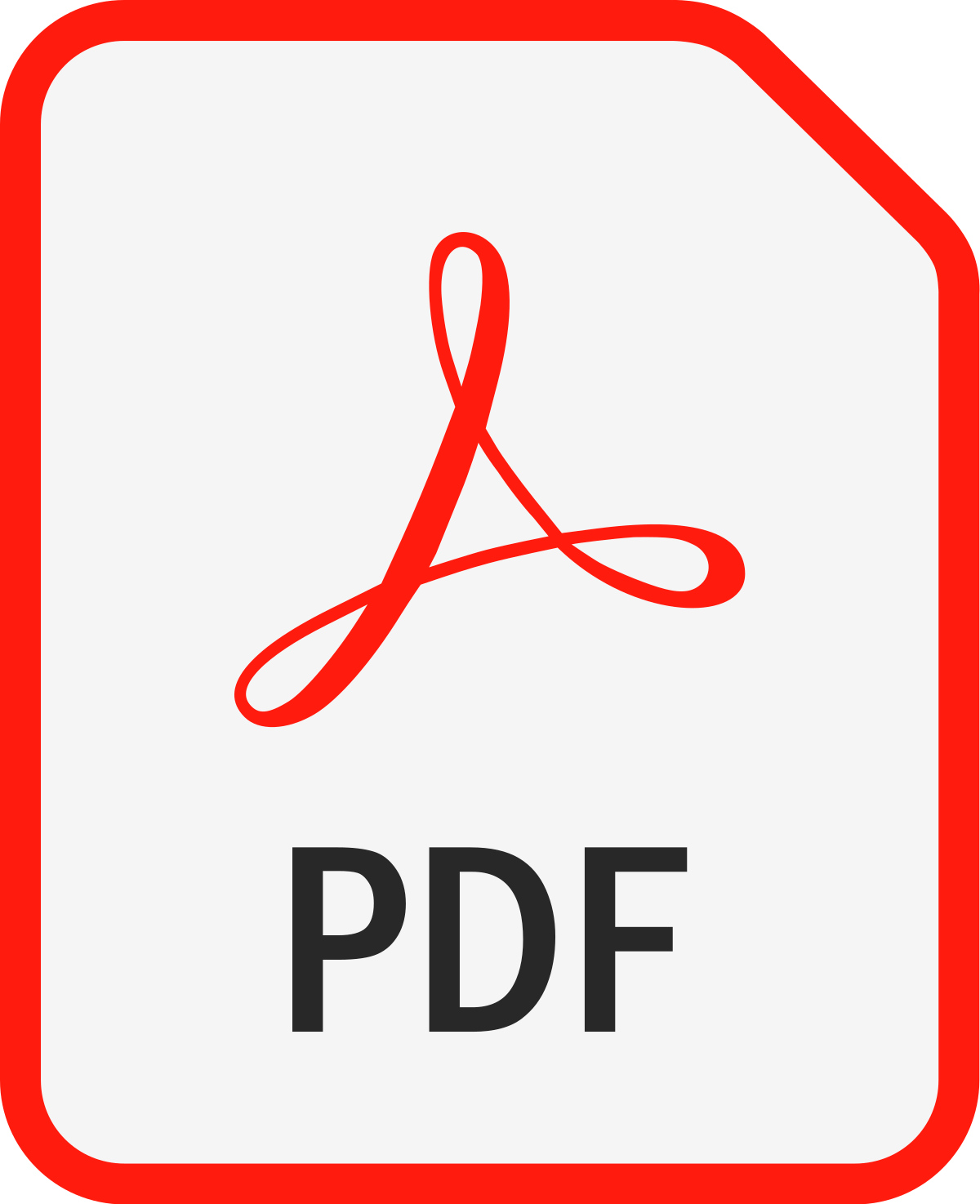 You may have already made up your mind at this point that you'd like to upload PDF files to your WordPress website but if you meet any of the criteria below, it's good confirmation that storing the PDF in your media library and linking it directly may be the way to go.
#1: The PDF Content Might Need To Be Printed
If the content within your PDF file is likely to be printed by a website visitor, then that's reason enough to upload it to your WordPress website and link it directly. Sometimes printing out content from a WordPress website can lead the content looking distorted even if it appears fine in the WordPress block editor.
#2: The PDF File Is A Lead Generation Tool
If you are using a PDF file as a "carrot" and trying to get leads in exchange for a downloadable PDF, then a PDF file sounds like the right solution. This is the most common approach unless the lead generation "carrot" is a video or some other form of media.
#3: The PDF File Was Created By Someone Else & Looks Professional
If a designer already went through the trouble of creating the PDF file, and you like the look of it, sometimes it's just easier to upload the PDF document and move on. For example, if the PDF covers an upcoming event, and has artwork, then you can sacrifice the potential SEO upside (since it's only going to relevant up until the event occurs) in favor for something that looks nicer.
#4: You Don't Care About SEO For The PDF's Content
Uploading PDF files and linking them from your web page is accepted by Google, and as mentioned above, they do crawl the content, but I still personally think it's better to have the content on the post or page vs. linking a PDF in WordPress.
#5: The PDF Has Pricing Information Or Specs
Similar to #1, if a prospect or potential client needs to closely review specs for some equipment or pricing, then a PDF file is somewhat expected. For example, most agencies or publishers use PDF files for their media kits. This allows them to easily upload PDF files, share them and not have issues with outdated information being on their website.
How To Upload A PDF to WordPress
Okay, we're cutting to the chase on how to upload PDF files to your media library in WordPress.
Your media library is where all of your files will be stored and easily linked, regardless if they are a PDF or not. After you upload your PDF file, you'll be provided a link in your WordPress dashboard and once someone visits that link, they'll be able to view your PDF using a PDF viewer – either Adobe Acrobat or their browser.
Step #1: Login to WordPress & Navigate To "Media"
There's no need for a special plugin, the WordPress Media Library comes native with your WordPress install, all you need to do is login and navigate to the Media Library and click "Add New":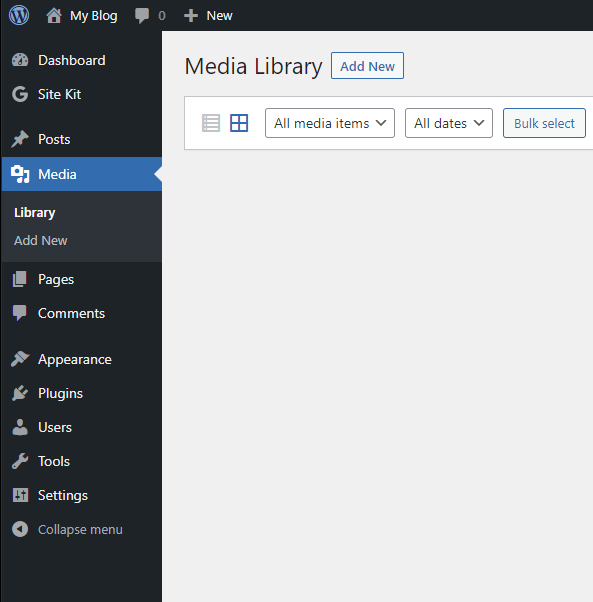 Step #2: Select Your PDF File And Upload
Once you select your file in the first section, you'll then see an icon with your PDF inside the WordPress interface:

Step #3: Grab The PDF Link!
Now you just need to grab the link by clicking the icon for your PDF file. This is the actual link that the PDF viewer will use: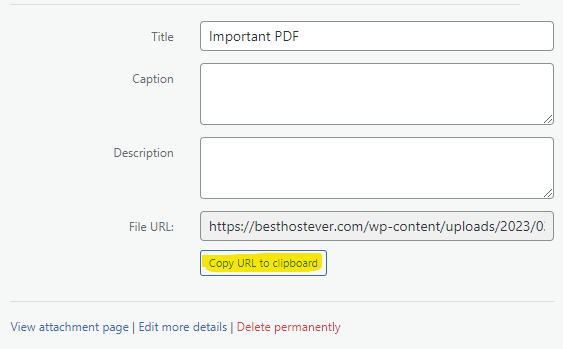 Now you're ready embed or link your PDF!
How Do I Embed The PDF Into My WordPress Site?
There are a couple of different ways to embed your PDF files into your WordPress site:
#1: PDF Embedder Block
With WordPress' new Gutenberg editor, you can create a file block that will embed PDF uploads, or any file for that matter, directly in the content. The PDF viewer is directly embedded in just a few clicks and it also creates a nice download button: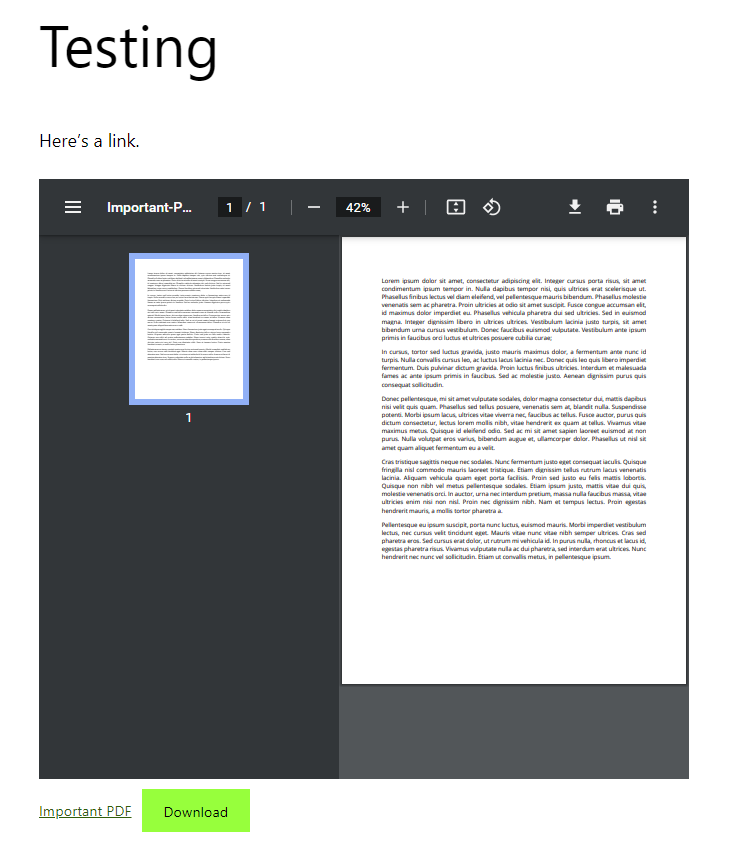 To do this, simply open the post or page where you'd like to embed the file block, and click the "+" sign in the top left, then type in "File" and click the icon. Then you'll be able to select a file in WordPress to embed.
#2: PDF Embedder Plugin
There's a plugin for everything in WordPress, in fact there are multiple PDF plugins. I don't think they are necessary but if you upload PDFs regularly then it could save some time.
#3: Simple Link In Content
You can simply link the content using the URL generated in your WordPress dashboard. This is the simplest way and it will ensure no issue on the recipient side in regards to being able to view the PDF because our devices are smart enough to find a PDF viewer by default in most cases.
#4: Download Button
As mentioned above, a quick download button could be used in order to link or gate our PDF files. It's easy to find an image of a download button on Google, or you can create one directly in Gutenberg by searching "buttons" instead of "file" when following the directions above in the "PDF Embedder Block" section.
So there we have it… very easy to actually upload the PDF to WordPress but there's quite a bit of strategy involved in regards to deciding how to embed it and why. If you have any questions drop them in the comments below or contact us on live chat!
John is the COO of NameHero and is an entrepreneurial, data-driven digital marketer and business operator with +16 years of experience across many different marketing channels, industries and strategies (B2C & B2B).