Selling products through an ecommerce platform can be a great way to make money online. Whether you're drop-shipping items, selling direct, or running a print-on-demand store, there are multiple tools out there to help you sell.
Tools such as BigCommerce vs WooCommerce are powerful ecommerce platforms that get your products in front of website visitors – who just might become buyers.
The biggest challenge? Deciding which ecommerce platform is best for you and your business.
Whether you want to open a WooCommerce store or a BigCommerce store, there are many ways to get your ecommerce business up and running. The first step is taking a look at the best ecommerce platforms out there.
To help you get an idea of what's out there, let's take a look at BigCommerce vs WooCommerce, including their features, pricing, and who each platform can benefit most.
What is BigCommerce?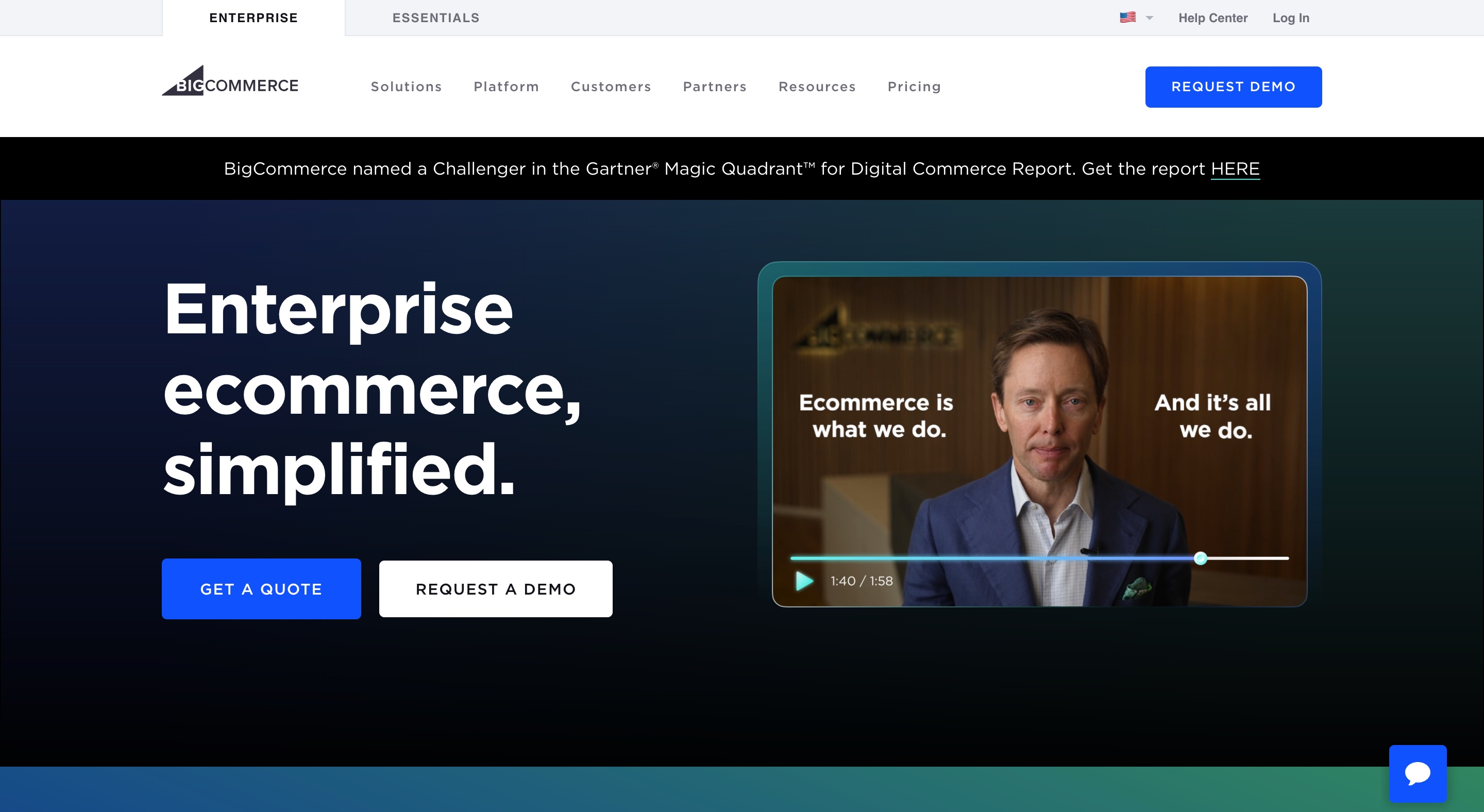 BigCommerce is an all-in-one ecommerce platform that enables users to set up an online store. In simple terms, it's a site builder for website owners who don't know code, but just need basic ecommerce solutions so they can open an online store.
As a hosted platform, BigCommerce contains all the tools you need to set up a fully functional online store, all in one place. If you're looking for an ecommerce website builder with powerful functionality, BigCommerce just might be the solution for you.
BigCommerce is also a web host with its own hosting packages. This means there's no need to use a third-party hosting provider.
BigCommerce Features
As a customizable ecommerce platform, BigCommerce is a popular choice for users seeking a one-stop solution for their online store.
When it comes to features, BigCommerce is highly adaptable. If you need a simple online store with an attractive storefront, you can built it here.
On the other hand, if you're planning to scale over time, BigCommerce can also grow with you. It all comes down to your future vision for your online store.
BigCommerce offers a number of powerful features for the online stores it hosts, including:
Visual website builder with mobile optimization
Customizable BigCommerce themes, including a number of free themes
Built-in features to support inventory management, multiple app integrations, and more
The ability to launch multiple storefronts from the same BigCommerce dashboard
Free SSL certificates and site security tools
Built-in CMS tools, web hosting, and API
The ability to customize URL slugs
SEO and marketing tools, including email hosting
Live chat support and a wide range of support services for site owners
Integration with an existing WordPress website via a WordPress plugin
Popular marketplace integrations, such as Amazon, Walmart, Facebook, and Instagram
The ability to sell and ship all over the world
Although BigCommerce offers a suite of tools all in one place, the platform also allows for third-party app integrations.
How Much Does BigCommerce Cost?
The price of BigCommerce will vary depending on your website needs and which ecommerce features you'll be using.
Its best-value Plus plan starts at $79.00 per month, billed annually. This plan includes marketing tools, up to five storefronts, the ability to accept multiple payment gateways, and more.
As an added bonus, BigCommerce doesn't tack on additional transaction fees beyond your monthly plan price.
However, if you're on a budget and just starting out, the Standard plan starts at $29.00 per month, billed annually. This package will get you up and running, and you can always upgrade your plan in the future.
You can take a look at BigCommerce's full pricing breakdown here.
The advantage to choosing BigCommerce vs WooCommerce is in knowing up-front what you'll be paying per month – if you stick with the tools that are already available and built-in. Additional third-party app integrations may alter your monthly costs.
BigCommerce offers a 15-day free trial so you can try the platform before you purchase anything.
Who Should Use BigCommerce?
If you want to set up a functional ecommerce website with ease, BigCommerce is for you. It's great for small businesses and users who need a simple online store.
For instance, if you own a small business such as a restaurant, brick and mortar store, or museum, you might want to offer visitors the option of ordering branded merchandise online.
Your BigCommerce website will make it easy to start featuring and selling your products online.
What is WooCommerce?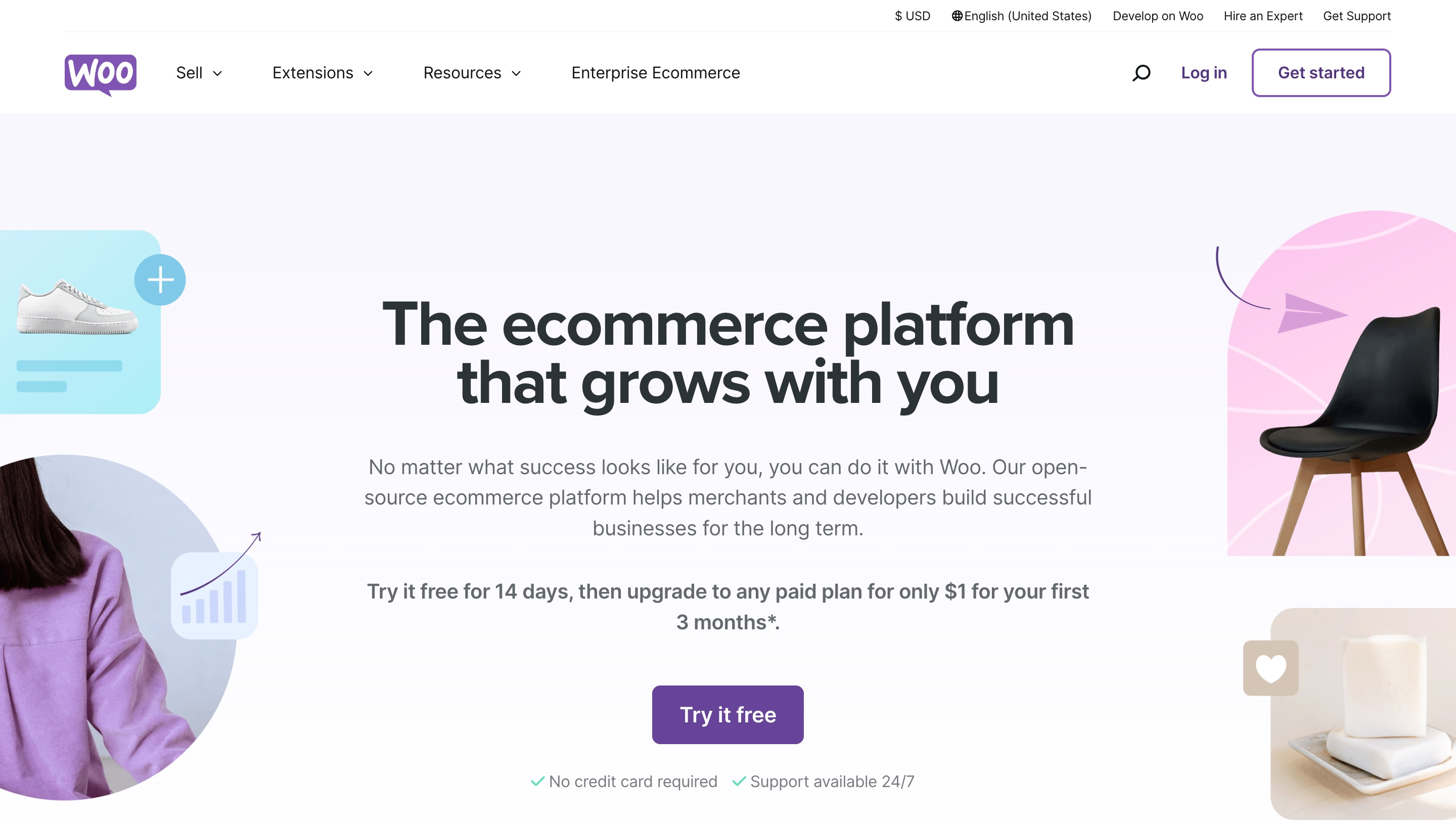 The WooCommerce platform is an open-source WordPress plugin that integrates with an existing WordPress website. It's not a website builder, and it doesn't offer web hosting. Instead, you'll need to add WooCommerce to your hosted WordPress website.
WooCommerce is the most popular ecommerce platform online. As an open-source platform, its ecommerce functionality is fully customizable.
If you have your own website, WooCommerce is a powerful ecommerce platform to integrate with your site. On the other hand, it's also great for users who are looking for hosting services and want ecommerce capability from day one.
Unlike BigCommerce, WooCommerce is a fully customizable platform that allows you to build your store exactly as you want it. This could mean a bit of a learning curve if you're new to the ecommerce world.
However, that's why the WooCommerce platform is the most popular ecommerce platform. Unlike other ecommerce solutions, WooCommerce lets you build your store piece by piece, using the plugins and integrations that work best for you and your customers.
WooCommerce Features
WooCommerce allows you to build powerful, customizable ecommerce websites through the WooCommerce plugin on WordPress. This plugin integrates with your existing WordPress site, so you can set up your ecommerce store and start selling when you're ready.
The WooCommerce platform makes it easy to sell your branded merch or other products from your WordPress website.
WooCommerce offers ecommerce features such as:
Multi-channel ecommerce integrations, including Etsy, Amazon, Ebay, social media, and more
Hundreds of WooCommerce themes and extensions to choose from, including block themes for visual editing (no code required!)
The ability to accept multiple payment gateways
Multiple marketing features, including email automations, digital ads, coupons, upsells, and more
CMS capabilities, including blogging and SEO optimization tools
A network of expert partner agencies you can hire to help you get your WooCommerce store set up and fully customized
WooCommerce support, including the WooCommerce support forum and the extensive online library of WordPress help, too
A paid Woo Express option to get your ecommerce store up and running faster
Developer tools for advanced features and customization
Enterprise-level solutions for growing online stores
While WordPress tends to be a platform for tech-savvy users, you don't necessarily need code to build your WooCommerce store. The plugin offers WooCommerce themes, including a few free themes, to get you started.
If you're building your online store yourself, you'll need enough tech knowhow to install your WooCommerce plugin and get everything set up on the back end of WordPress. After that, you'll want to plug and play to get all your store integrations set up the way you want them.
See the full breakdown of features and integrations on the official WooCommerce website.
How Much Does WooCommerce Cost?
The WooCommerce plugin itself is free, with a few Woo Express paid tiers available.
Keep in mind that, because WooCommerce is a plugin, you'll have to take the cost of your entire website into consideration. Here are some factors that will affect the cost of your store:
Where you host your website
Domain name renewal fees
Any premium plugins you may need to add and pay for
Paid extensions and ecommerce services you might choose to add
Whether you choose the paid Woo Express option
Other miscellaneous costs
Woo Express has a free trial period, followed by a $1.00 per month fee for the first three months. After that, its Essential tier starts at $25.00 per month (billed annually), and the Performance tier starts at $45.00 per month (billed annually).
Who Should Use WooCommerce?
If you're familiar with WordPress, or if you're tech-savvy and don't mind the learning curve, WooCommerce might be the best ecommerce platform for you.
Even if you aren't comfortable with the ins and outs of tech, your developer – or even a WooCommerce agency partner – can help you get your ecommerce store off the ground.
If you want a versatile ecommerce store that you can truly make your own and scale over time, consider giving WooCommerce a try.
Start Your eCommerce Store With NameHero's Dedicated WooCommerce Hosting Packages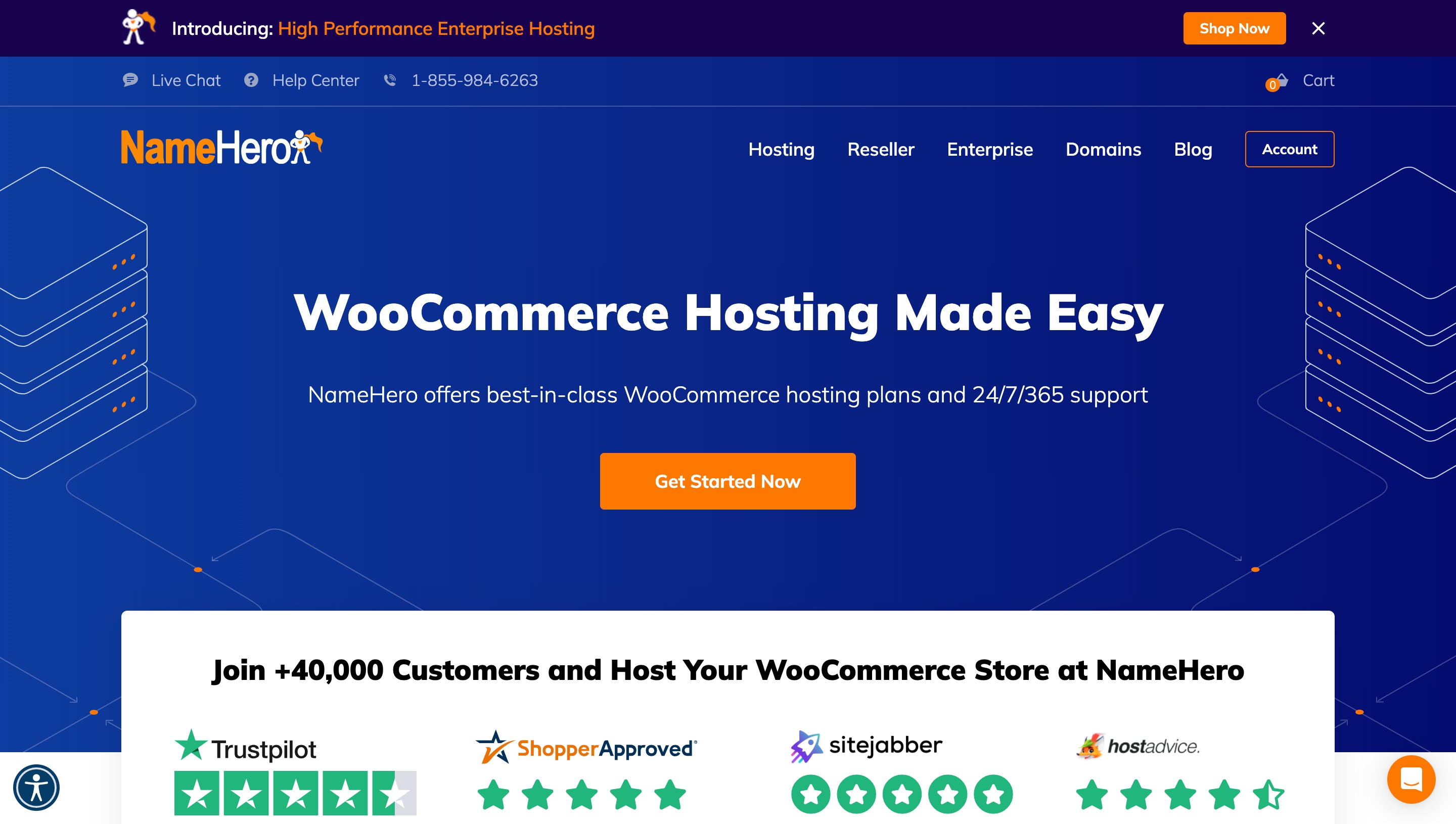 Interested in opening a WooCommerce store, but not sure where to start? NameHero offers dedicated WooCommerce hosting packages for websites of all sizes!
If you're on the fence about BigCommerce vs WooCommerce, our WooCommerce packages make it easy to choose.
Every WooCommerce plan at NameHero features free automatic WooCommerce installation. That eliminates a critical step in the setup process.
We also offer:
Fast loading and site operation with our SpeedHero technology, supported by our LiteSpeed web servers
A free SSL certificate
Free domain name when you select our Turbo or Business WooCommerce plans
Advanced developer tools
Free site migration for qualifying websites
24/7/365 tech support for your WooCommerce site
30-day money back guarantee
Ready to launch your WooCommerce store with NameHero? Check out our hosting packages here.
Haley Walden is an intuitive brand voice copywriter who helps thought leaders and innovative brands position themselves as industry experts, influencers, and visionaries in their fields. She's a multi-passionate geek with many obsessions, including books, martial arts, film, music, and musicals. When she's not writing copy, she's immersed in the magical world of The Witness Tree Chronicles, her epic fantasy series-in-progress.