If you're looking for a new website hosting service, you've likely come across many options. There are so many web hosts available that it can be challenging to decide which one to start with–or which host to move your website to when it's time for a change. Either way, there's a host out there for you that will fit your needs and help you get your website where you want it to be. 
Comparing the features of website hosting services like A2 Hosting vs SiteGround can get a bit overwhelming, but don't worry–we've got you covered. In this article, we'll be talking about some of the similarities between SiteGround and A2 Hosting. We'll also touch on the major differences between these hosts, and why you might want to go with one over the other.
So how do you decide which is the best website host for your needs and your skill level? That really involves breaking down the features each host provides, plus evaluating your own skill set (and that of your team, if you have one). Luckily, both A2 Hosting vs SiteGround have options for users at every level.
Ready to find out whether A2 Hosting vs SiteGround is best for your needs? Keep reading to learn more. 
What is A2 Hosting?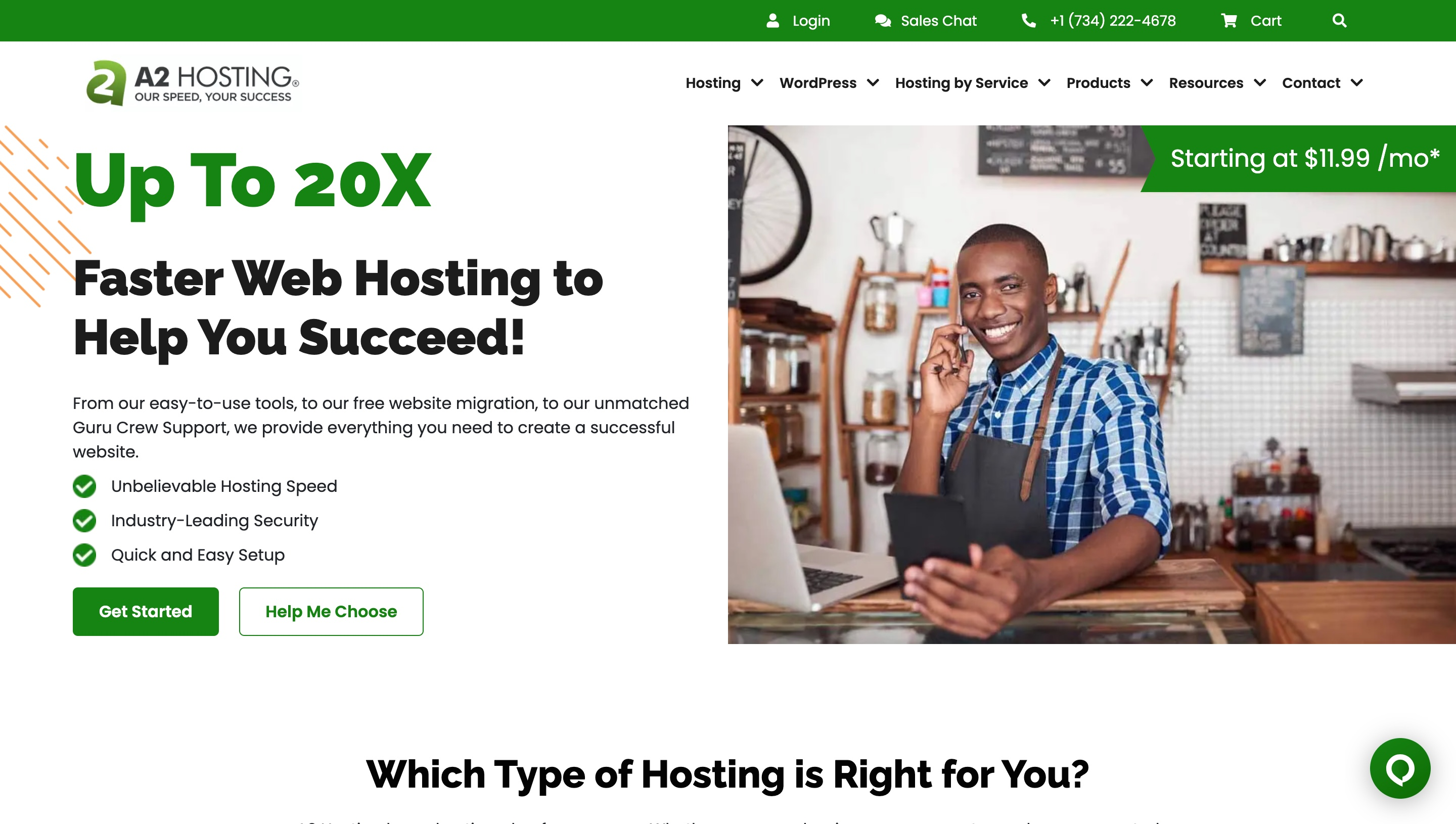 A2 Hosting is a powerful web host that relies on SSD servers, rather than cloud hosting, across all its offerings. For website owners and businesses who are concerned with hosting their websites on physical servers instead of in the cloud, this is an important factor that sets A2 Hosting apart. It's also a strong option for individuals or businesses who want dedicated hosting or VPS hosting options available.
Because of its VPS and dedicated hosting options, A2 Hosting could be a good fit for sites that need to scale over time.
What is SiteGround?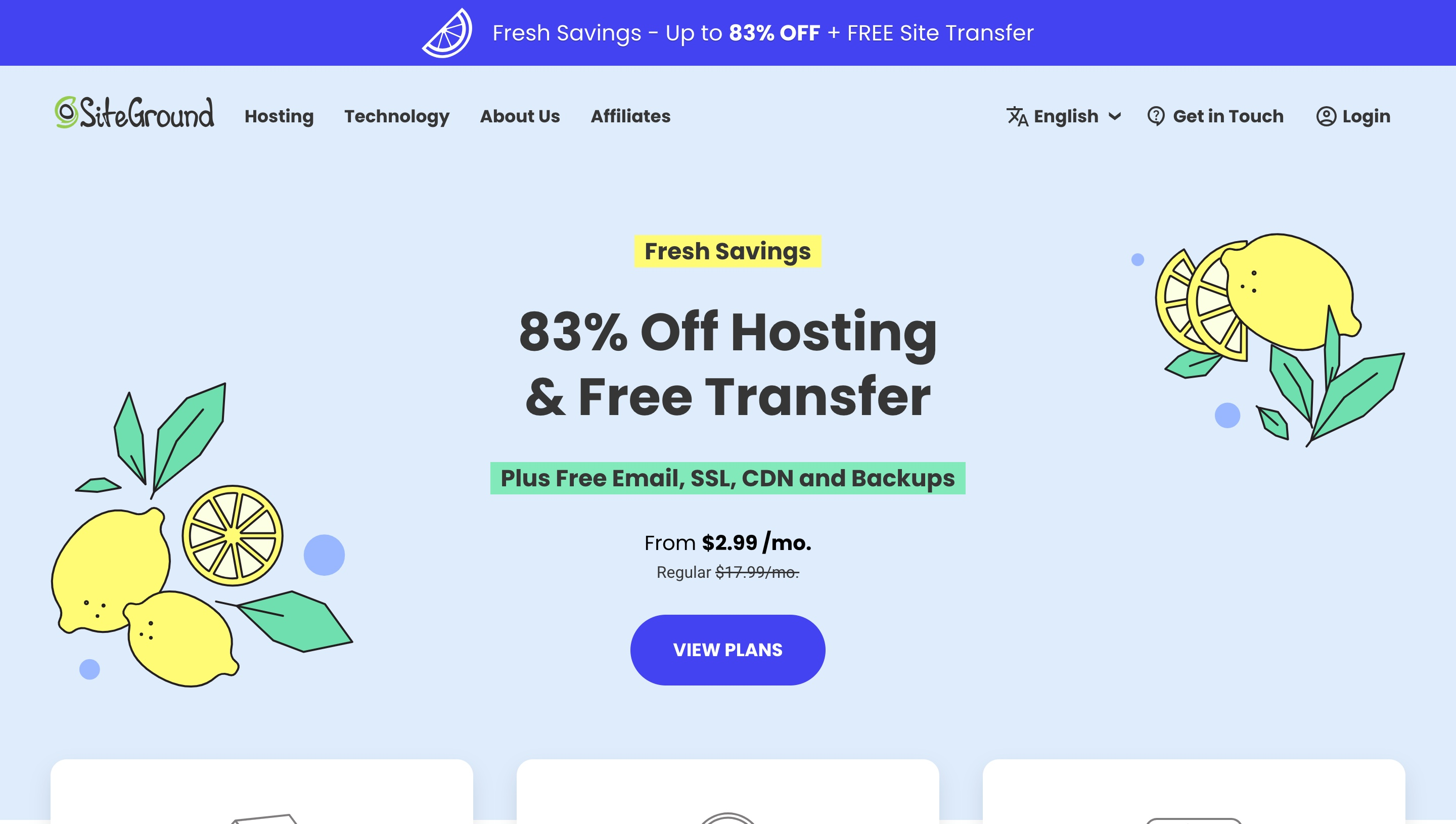 The SiteGround hosting provider is great for beginners or small businesses, and it doesn't require too much technical knowledge to get started. With its Google Cloud infrastructure and easy WordPress installations, it's fantastic for site owners who want to get up and running quickly. Plus, it's an affordable option in comparison to many other web hosts out there.
SiteGround offers options for setting up a standard website, WordPress sites, and even WooCommerce stores with ease. It's a simple, quick solution for anyone with budgetary concerns, or businesses that haven't quite reached enterprise level yet.
What Features Do Both SiteGround and A2 Hosting Have in Common?
SiteGround and A2 Hosting share a number of important features that site owners need for success. These features include:
Custom site tools for easy access and management
Robust content management systems via WordPress hosting
Free SSL certificate
Unlimited email accounts and databases
Managed WordPress hosting
Easy for site owners to install WordPress
Automatic updates for WordPress websites
Free site migration for eligible websites and plans
eCommerce store integration and hosting
Reseller hosting available
Developer tools available
Staging tools available for eligible plans
Site security and brute force defense
Phone support and live chat available for customer support
Fast page load and website speed
99.9% uptime, according to each host
Where each host truly begins to differ is in its server type and the features included in each individual hosting plan. Let's break it down further and learn about some of the features that set A2 Hosting vs SiteGround apart from one another.
What Features Make A2 Hosting Stand Out From Its Competitors?
A2 Hosting promises fast website speeds due to its SSD-based servers. This could be particularly attractive to site owners who want dedicated hosting or VPS hosting options for their websites. Anyone who prefers physical servers over cloud-based servers will want to take note of this feature.
Per plan, A2 Hosting offers more hosting space overall than SiteGround does. This is even true for its more budget-friendly subscription tiers. The trade-off here is that lower-tier plans don't allow for unlimited websites, so if you need a plan that allows for multiple sites, you'll need to make sure your budget can support A2 Hosting's higher prices.
Noteworthy A2 Hosting Features and Site Tools
Now, let's take a look at some of the A2 Hosting features that set it apart from SiteGround. Here are some important bells and whistles you need to know about:
Websites run on Turbo Litespeed SSD servers
Dedicated servers for certain hosting plans
cPanel dashboard built in
Automative site backups
Advanced security tools and proactive protection, including malware scanning and Immunity360 security
Options for affordable shared hosting, dedicated hosting, VPS, WordPress, eCommerce, and reseller hosting options
Hosting providers like A2 Hosting offer scalable solutions, including shared hosting and dedicated hosting, to help website owners at any stage. If you're in the market for a site host with physical servers, this is an option to consider. However, if you prefer cloud hosting, A2 Hosting doesn't offer it in any of their packages.
How Much Does A2 Hosting Cost?
For Turbo Boost, its best-value shared hosting package, A2 Hosting's pricing starts at $6.99 per month for unlimited NVMe SSD storage space and an unlimited number of websites. WordPress hosting at A2 Hosting starts at $18.99 per month on the Jump plan, which includes 250 GB SSD storage and up to five WordPress websites.
What Features Make SiteGround Stand Out From Its Competitors?
SiteGround is a great web host for smaller or early-stage websites that run on cloud hosting. Small to medium-sized businesses could definitely benefit from hosting their sites here. With shared hosting in a Google Cloud environment, SiteGround offers an affordable place for website owners to get started.
For site owners who want to set up a WordPress site, especially for the first time, SiteGround offers easy installation. It's great for users who aren't as tech-savvy or need to save time in the process of launching their site.
Noteworthy SiteGround Features
Now, let's compare A2 Hosting vs SiteGround. What makes SiteGround stand out against the features A2 Hosting offers?
Shared hosting on Google Cloud servers
Unlimited websites starting with the GrowBig plan
Proprietary SiteGround site tools panel for users
On-demand backups
Free SiteGround CDN included
Site security tools including WordPress security plugin and anti-bot AI tools
Standard website, WordPress, eCommerce, and reseller hosting available
100% renewable energy matching
If you're a developer–or if you have developers who work with you–keep in mind that SiteGround does not offer cPanel access. Instead, it had a proprietary dashboard for its users. If you prefer a website host with cPanel, you'll want to scope out other options like A2 Hosting or NameHero.
How Much Does SiteGround Cost?
The best-value plan for getting started at SiteGround is GrowBig, starting at $4.99 per month. Users get 20 GB of storage space, about 100,000 monthly visits, and unmetered site traffic for that price.
NameHero: An Alternative to A2 Hosting vs SiteGround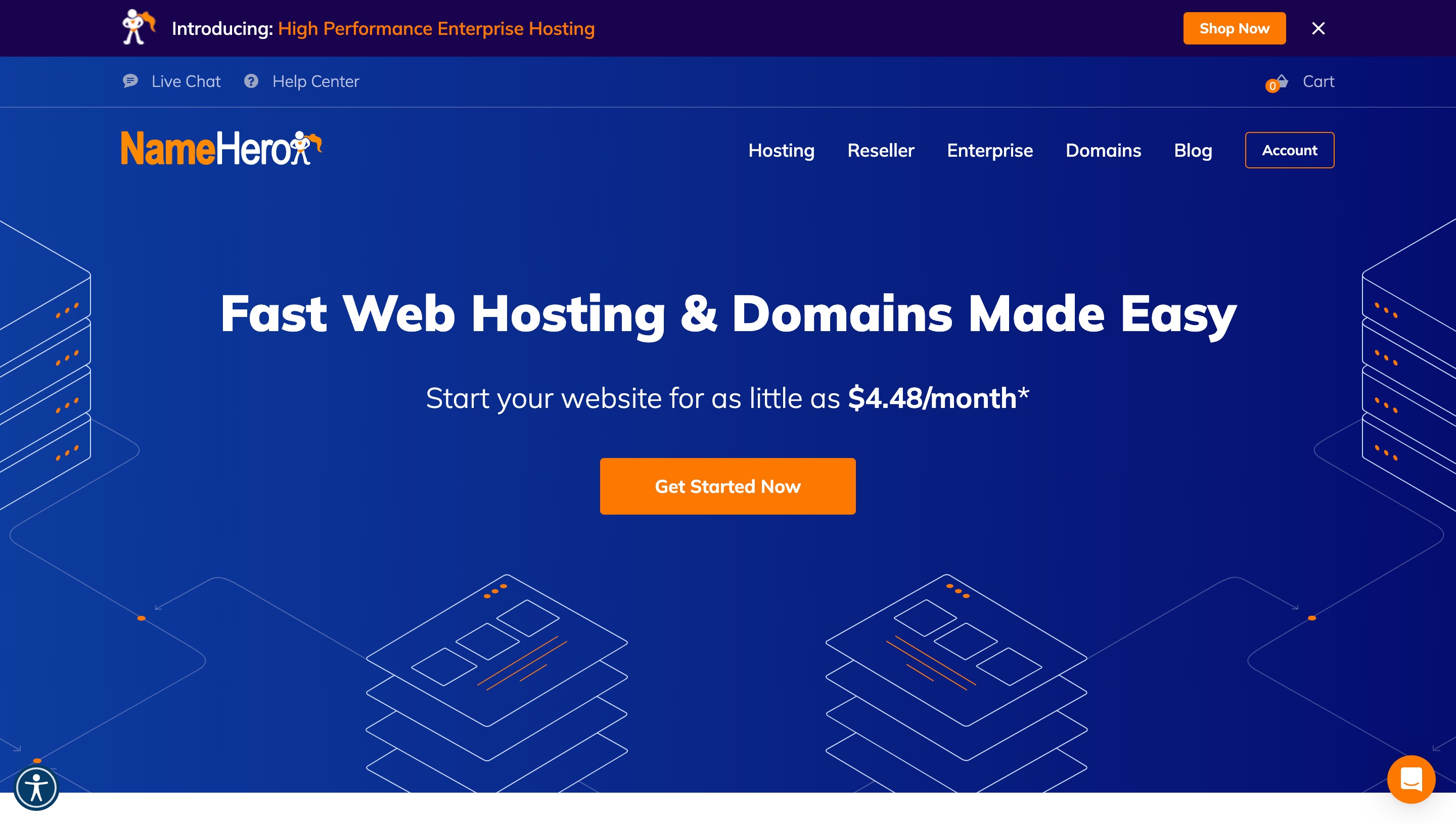 Looking for an A2 Hosting vs SiteGround alternative that has everything from easy WordPress installation to advanced developer tools, and even enterprise hosting? NameHero offers the best of both worlds.
At NameHero, we feature 20x faster site speeds, excellent customer support, and reliable cloud hosting with 99.9% uptime guaranteed. Whether you're a beginning user or a seasoned website developer, you'll find what you need here. Migrating your website is also easy with NameHero, with many sites eligible for free site migration!
Best of all, if you want to reach customer service personnel, our SuperHeroes are available 24/7 via chat, with phone support also available.
What Features Make NameHero Stand Out From Its Competitors?
While NameHero has many features that overlap with both A2 Hosting and SiteGround, there are some that set it apart from the competition. These features include:
Cloud servers with SSD site storage space
Unlimited websites starting with the Turbo Plus subscription
Proprietary NameHero dashboard or cPanel tools available
Free domain names with eligible site packages
On-demand site backups available
Free CDN included
Website security tools, including malware scans, threat detection in real-time, automatic patching, and site defense tools powered by AI
A range of hosting options, including standard websites, WooCommerce, WordPress, reseller hosting, and secure enterprise hosting
Read more about the differences between NameHero's managed hosting vs public cloud here.
How Much Does NameHero Cost?
Our best-value package, Turbo Cloud, starts at $10.97 per month. This subscription tier will get you about 50,000 website visits each month, plus 3 GB RAM and unlimited NVMe storage.
Ready to Choose Your New Site Host?
A2 Hosting vs Siteground offer fantastic options for any website owner, whether you're starting out or looking for advanced site tools. However, whether your site is big or small, keep in mind that you might want to scale! In that case, we recommend taking a look at NameHero, which offers plans all the way up to enterprise-level hosting. Check it out and learn more about our hosting plans here.
Haley Walden is an intuitive brand voice copywriter who helps thought leaders and innovative brands position themselves as industry experts, influencers, and visionaries in their fields. She's a multi-passionate geek with many obsessions, including books, martial arts, film, music, and musicals. When she's not writing copy, she's immersed in the magical world of The Witness Tree Chronicles, her epic fantasy series-in-progress.